InVigor™ canola hybrids revolutionized the industry with their ability to deliver vigorous early season growth, uniformity in height and maturity, superior genetic potential for yield and, most importantly, the ability to consistently outperform other hybrids and canola varieties, even under stressful growing conditions.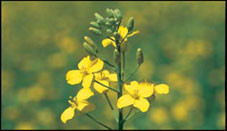 In addition, InVigor hybrids, which contain the LibertyLink trait, are genetically tolerant to Ignite herbicide, which controls more than 120 broadleaf weeds and grasses including glyphosate- and ALS-resistant weeds.
"Ignite does very well on broadleaves," says Brian Jenks, weed scientist at North Dakota State University. "For the weed spectrum that we have, Ignite controls kochia, wild buckwheat, pigweed, Russian thistle and mustard species very well." With it's proven effectiveness on volunteer Roundup Ready canola, Jenks adds that InVigor hybrids are a great fit for growers to rotate their mode of action.
"InVigor hybrids are very good and are also very competitive. They compete with weeds extremely well due to their ability to cover the ground. I have heard of growers who chose these hybrids for that reason alone. InVigor hybrids also tend to yield well and are easy to harvest."
Brian Jenks
Weed Scientist
North Dakota State University