*Extended comments are highlighted in blue.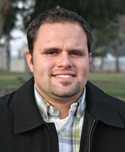 Brian Medeiros
Hanford, Calif.
I attended the Sustainability Summit for U.S. Dairy in June 2008, put on by Dairy Management Inc. The topic was reducing the carbon footprint of the U.S. dairy industry. Up until that summit, I had no clue what a carbon footprint was or what the word sustainability meant, much less what any of the carbon sources were.

But how fast you learn, and how fast everyone's perceptions and understanding change in such a short time. I now know that my dairy, even though its footprint is not among the largest, contributes a fair amount of carbon. The largest share comes from the very animal we depend on.

I have been searching far and wide for methods to mitigate our carbon footprint. I know that we cannot put on face masks and capture all of the methane gases that come out of our cows, but there are solutions. A cross-ventilated barn is one. We've looked at taking the exhaust and running it through an aerator system into the lagoons. That idea, however, is still premature.

Carbon-friendly solutions that we have installed on our dairy are: energy-efficient lights, pump motors and a flush/irrigation system to continuously recycle water in the dairy to maximize separator efficiency. These have allowed us to save money on utilities as well as lower the carbon output at the electrical company.


Medeiros' January Prices
 
Milk (3.68% bf, 3.30% prt):
$13.50cwt.
Cull cows:
$58/cwt.
Springing heifers:
$1,400/head
Alfalfa:
$190/ton
Cottonseed:
$255/ton (contracted)
$291/ton (spot)
Corn:
 $177/ton