The guys gather, eyes popping, in the machinery yard of a 15,000-acre unit of Raiz Agro near the village of Ruzhavka in Ukraine's Uman region. They're face-to-face with three brand-new 30-ton monster grain trucks, top-end GPS-equipped combines and tractors, two of the hugest anhydrous am-monia tanks imaginable, 120-ft. boom sprayers and—hold on here—is that a 32-row planter?

Sergy Olexsandrovich, manager of this unit, beams a big smile full of gold teeth and says, "It is my dream for people to come to my farm and learn about our agriculture."

The Americans, here on the first Top Producer Frontier Study Tour, dart among the high-dollar machinery like little boys at a playground, hardly knowing what to say. It's their dream, too, just to see something like this.

Ukrainian agriculture, stuck in the doldrums of the Soviet collective farm system for years, is beginning to emerge into the era of high-tech agriculture. After more than a week of visiting farms on the tour, sponsored in part by the United Soybean Board (USB), the Americans say that Raiz Agro is the best example they've seen so far of what the future may hold for Ukraine. It's also a prime example of just how far Ukraine must go to acheive U.S.-style efficiency.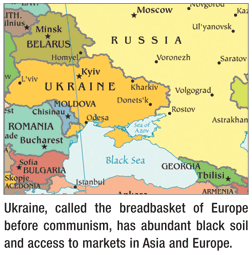 Growing pains. Raiz Agro planted 247,000 acres of corn, wheat, barley, rape and sunflowers this year and plans to double that next year, all leased from former Soviet collective farms. It's fast growth, but that's what Ukrainian agriculture is about today.

The company began with 5,000 acres in 1999; its owner, Vitaly Tsehmistrenko, started in the fertilizer and seed supply business. Now it's a John Deere distributor in Ukraine, too. Today, some workers in a corner of the yard are busy unloading parts from large wooden shipping crates and assembling new disks.

Wade Hubers, a Pantego, N.C., farmer on the Top Producer trip, compares present-day Ukraine to the Brazil he visited in 1989, on the verge of a production breakthrough. "When they get their political system fixed, we're going to be shocked at how fast it happens," he says. "As a supplier to the European market, they're going to have a huge freight advantage. They will be a formidable competitor to the U.S."

Despite the advancements, the workers can't match the equipment's pace. With nine combines harvesting barley in a 1,000+ acre field, three machines sit idle with hoppers full for more than an hour while a summer storm looms on the horizon. Farm Service Agency loan officer and Illinois farmer Glenn Leighty looks on with amazement and borderline disgust.

"What are they doing?" he asks. "They're losing 30% of their efficiency with those combines sitting."

All nine are late-model John Deere and Case combines. The other six stop to unload the 88-bu./acre barley into Soviet-era wagons with three-foot wooden side panels. Mean-while, the coveted 30-ton trucks sit less than a mile away. Olexsandrovich doesn't want the behemoth grain transports to get stuck in the black mud that is sure to form with the imminent rains.

It's a nation of surprises. "One of the things that surprises me is, where the land has been farmed properly, the potential is so much greater than I expected," says Russ Carpenter, a Trumansburg, N.Y., farmer and USB director. "These black soils are very deep and profitable."

The unstable government, full of corruption, gives him pause about the possibility of investing in Ukraine's agriculture, however. "The risk will be if the government can kick you out once you get started," he says. "You can have all the money in the world, but if they don't like you, they can kick you out. It's high-risk."

The Frontier Study Tour group visited several large Ukrainian farms with both grain and dairy operations. A couple had U.S. investors. After a careful look, Mark Mueller, who farms at Waverly, Iowa, sees opportunity but also Carpenter's high-risk assessment: "If you combined a Midwest work ethic and Wall Street's entrepreneurial spirit with Ukraine's natural resources, you would have an agricultural powerhouse," he says. "It has a climate and soil that can grow any oilseed, grain, meat or vegetable.
"Ukraine has proximity to markets such as the European Union and Russia as well as quick access to the Mediterranean and the Suez Canal," he adds. "And it has infrastructure such as roads, ports, irrigation canals, electricity and railroads.

"Offsetting these advantages is a workforce for whom a sense of entrepreneurship has been snuffed out by decades of socialism," Mueller notes. "Employees with a good work ethic are among the rarest of commodities. Initiative is rare except among the young, who did not grow up under communism," he says.

"Theft is endemic. Every farm we visited employed security guards," he adds. "And they must still deal with a government that dithers rather than decides. Bribes grease the wheels of bureaucracy and get some things done, but bribes can be used against you as well."

It holds big potential that could take a long time to be realized. "I don't take Ukraine lightly but I won't regard it as a major economic threat to U.S. agriculture until the last of the generation that grew up with socialism has died out," Mueller says. "Brazil will succeed in conquering Mother Nature before Ukraine can change human nature."

To contact Charles Johnson, e-mail CJohnson@farmjournal.com.
---
Top Producer, September 2008