Just like cotton farmers, cotton insects live in a brand new world these days. Unlike many farmers, though, a lot of the insects seem to love it. The bugs are finding ways to thrive, thanks to more diverse cropping patterns in traditional cotton- producing areas and possibly some management changes, as well.
With today's transgenic varieties becoming commonplace, bollworms and budworms no longer pose much of a problem. Now plant bugs, stink bugs and spider mites cause more challenges for most farmers.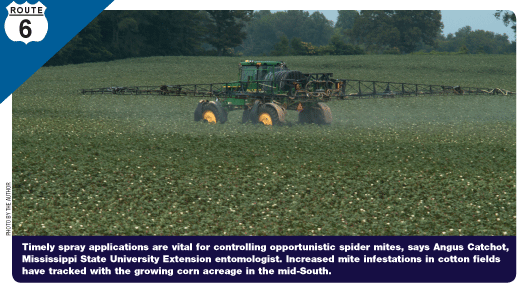 "There are three reasons the pest status changed. First, the use of transgenic varieties. Second, the boll weevil eradication program fired up the sucking bug complex. And there are alternate hosts for the sucking bugs. Cotton is attractive for these pests, so we see very high numbers of them coming into cotton from other crops," explains Gus Lorenz, a University of Arkansas Extension entomologist.
"A lot are still sampling fields the way they did when worms were the problem. If the sucking bug complex is the No. 1 problem, we have to alter sampling methods and take action," Lorenz says.
Though they haven't hit the top of the list of insect problems, spider mites have surprised many cotton farmers in recent years. Increased corn acreage in cotton-growing areas has probably pushed up mite numbers.
"They've been plaguing us for four years in the mid-South. We've had a lot of problems all the way from emergence to harvest, at some level. I can tell you they're real. They've been bad, driving a lot of our guys crazy," says Angus Catchot, a Mississippi State University (MSU) Extension entomologist.
Mite control gets costly. Jeff Gore, an MSU entomologist working at the Delta Research and Education Center in Stoneville, Miss., says early season control costs $15 per acre to $30 per acre and late-season application costs $6 per acre to $15 per acre.
"Mite products only kill mites. With late-season mites, there's a big question. You've got mites spotting across fields—do you need to treat? That's a big, big decision, moneywise. You've got to stay on top of them. It takes green leaves to fill those bolls out," Catchot says.
Timeliness is key when dealing with spider mites. You almost have to anticipate when populations will explode.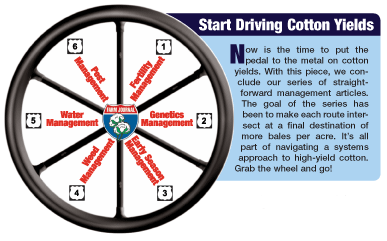 "I can't stress timeliness enough. When you go to a field and can see a bad problem, you're late out there. You want to keep hot spots to a minimum and come in and get that treatment on," Catchot says.
"Mites like stressed, weak plants. They're opportunistic. Healthy plants that have been irrigated do better at holding off mites," he says.
Two-spotted spider mites, the primary problem in cotton, have at least 150 plant hosts. This type of spider mite particularly thrives on the pigweed complex, morningglory and some other weeds. They will deposit lots of eggs and populations can quickly skyrocket, says Larry Godfrey, University of California–Davis entomologist.
"They have a lot of crop hosts, which creates opportunity for them to move crop to crop. Factors occurring outside the cotton field many times affect when they arrive in cotton," Godfrey says.
Drought accelerates mite movement. Dry weather improves food quality for mites and inhibits fungal diseases that attack them. High temperatures speed mite reproduction. The combination of drought and hot weather creates ideal conditions for mites.
Knowing the precise time to apply a miticide gets tricky, though.
"Threshold definitions vary by state. We can do better with that. Mites are sporadic. Populations can be fickle. You might get mites in a field and then they disappear within two weeks for no real reason. We might be able to do better if we're using a less aggressive threshold and a higher application rate in the mid-South, like they do out west," says Scott Stewart, University of Tennessee Extension entomologist.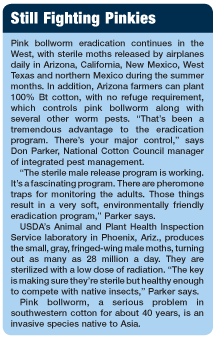 "One thing that makes the threshold challenging is that we know we get mites early and sometimes they go away. Sometimes the opposite happens. We're really dealing with a different animal in the late season and the early season. The No. 1 factor for early mites is where you are. I can't figure out what's going on. Some consultants correlate it to corn acreage. I think there might be something going on there," Stewart says.

Be ready to act.
Regardless of threshold questions, indecision can be costly when dealing with mites. Catchot recommends acting quickly.
"You have to get on these things early with a miticide. If you've already applied a miticide and the plant has added new nodes, none of them are protected because there are no systemic insecticides for mites. You've got to get on top of these things and do it early," Catchot says.
Overwintering mites survive on weeds and are ready for whatever crop gets planted next, including cotton. Entomologist Gore identifies henbit as one weed spider mites particularly like. That might help farmers zero in with off-season control measures.
"Henbit may be where a lot of our spider mite problems come from, so it may provide an opportunity to control it," Gore says.
"The impact of burndown treatments can help. You want to avoid that green bridge. Spatial management may be possible with prescription opportunities. It's a difficult challenge for management, but management from a landscape approach gives us the best results," he says.
The increasing number of corn acres in cotton-growing areas, though, has undoubtedly prodded the spider mite population to increase more than any other contributing factor.
"It's had a huge impact. Corn is the driving factor in mites. At some level, spider mites are in almost any corn field in the Delta," Catchot says.
"The literature clearly states that when corn fields dry down, there's a big movement of mites out of corn. We all know corn is an alternate host, and it's full of spider mites," Catchot says.
---
You can e-mail Charles Johnson at
cjohnson@farmjournal.com
.