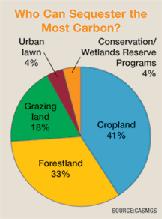 If you don't quite understand all the talk about selling your carbon credits to offset greenhouse gases produced by a global business giant, you're not alone. It can be hard to get your arms around the carbon trading concept as it relates to agriculture.

To learn more, Top Producer hosted a question-and-answer session with three carbon market experts: David Krog, CEO of AgraGate Climate Credits Corporation, a subsidiary of Iowa Farm Bureau and the nation's largest agricultural carbon credit aggregator; Chuck Rice, director of the Soil Carbon Center at Kansas State University; and Laura Sands, coordinator of the Ag Carbon Market Working Group.

Farmers sent us their questions. The following is a look at some grower concerns and expert conclusions regarding agriculture's role in carbon markets.

Q. If a farmer is already practicing carbon sequestration, such as no-till, how does signing up for carbon trading help the environment?
Krog: The carbon market program provides incentives for farmers to make long-term commitments to sound environmental practices that sequester more carbon. By enrolling in the carbon credit program, the farmer is committing to stick with
the practice over the duration of the contract period. In the case of soils contracts, that would be five years.

Q. Why sign up now? What if some other climate exchange comes along that will pay producers more?
Krog: The current voluntary market recognizes early action credits. It is uncertain what any future carbon market may recognize.
Rice: Many programs are short-term, four- to five-year contracts, so a farmer can enroll in a different program later. If the price is high enough, you could buy out your contract and sign onto another program. It is like futures on the grain market.

Q. Do farmers and ranchers have to prove they actually store carbon in their soil through soil testing?
Krog: The carbon credit program has certification and verification processes. These do not require soil testing. The certification process requires that the farmer, each year, self-certify that he or she is complying with the terms of the contract. Under the verification process, a Chicago Climate Exchange (CCX)–approved verifier visits and samples 10% of the property.
Rice: Depends on the program. Right now, the CCX uses a practice-based approach with third-party verification of the practice. It is possible that some measurements will be needed on some fields, combined with other tools such as soil models to estimate soil carbon changes. The project design determines who bears the costs. One option is the buyer of the carbon credit.

Q. Soil scientists say that after 20 years of no-till, carbon sequestration begins to drop. Is that correct, and would credit values diminish over that 20-year period?
Krog: Soils data do indicate that over time carbon sequestration slows down and eventually peaks in no-till fields. Currently, the market does not reduce credits earned over time.
Rice: Yes, at some point the increases in soil carbon level off and thus the credit for additional carbon offsets is not possible.

Q. Is carbon credit exchange a voluntary form of taxation that could be converted by the government into a mandatory tax? 
Krog: One of the alternatives to addressing greenhouse gas (GHG) accumulation is to implement a policy in which GHG emissions are taxed. We prefer the cap-and-trade approach, in which market incentives and disincentives are used to reduce emissions in the most cost-efficient way.
Sands: A cap-and-trade policy is a free-market solution to an issue that many people believe must be solved. It allows markets to drive efficiencies and find solutions that have benefits economically and environmentally.

Q. How close is Congress to passing climate legislation?
Krog: Most experts predict some form of climate-change legislation will be passed into law by the end of 2009. If so, it is not expected that mandatory compliance will be implemented until 2012.
Sands: I would add that both presidential candidates have declared this a major priority.

Q: If carbon sequestration occurs in no-till and grass situations, could it be theorized that anyone who puts in a new lawn, grows a tree, etc., would be eligible for carbon credits?
Krog: Any activity that increases carbon sequestration will help reduce levels of greenhouse gases. As of yet, there are no protocols in place that allow people to earn carbon credits for all of these activities.
Sands: In the world of political reality, only agriculture can mitigate up to 40% of GHG gas emissions.

Read the Web Extra bonus content.

To contact Jeanne Bernick, e-mail JBernick@farmjournal.com.

---

Top Producer, September 2008