Adhesion and Cohesion Make Irrigation Work

The principles of adhesion and cohesion are well understood by irrigating farmers. They use those concepts every time they water a crop.

"Irrigators apply enough water to make sure the two fronts—one moving downward and one already deep in the soil—meet, so water is pulled back to the surface after the pivot passes on," explains Farm Journal Field Agronomist Ken Ferrie.

"You have to drive the irrigation water down from the top," Ferrie continues. "You can't water 2" deep when your other front is 7" or 8" below the surface. When you drive the irrigation front down to the water table, evaporation from the surface pulls water up from below, using adhesion and cohesion."

Soil type determines how much water must be applied to accomplish that goal. "In sandy loam, if you drop water into an irrigation ditch, 24 hours later the water may be 7" deep but it has only spread out sideways a little bit," Ferrie says. "Sandy soil has fewer adhesion sites on soil particles to pull the water sideways, so it moves straight down.

"But if you put the same amount of water into a ditch in a clay loam soil, the water spreads out sideways as fast as it moves downward because there are lots of adhesion sites on soil particles."

If an operator gets nervous and speeds up his center pivot before the fronts meet, the water applied by the pivot will evaporate. The water deeper in the soil will stay down there, below the roots, where it was before he irrigated.
 
---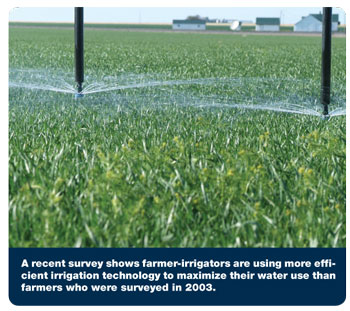 Irrigation Farmland on the Increase

The USDA's 2008 Farm and Ranch Irrigation Survey reveals that farmers and ranchers now irrigate 54.9 million acres of farmland across the U.S., an increase of nearly 5% since 2003.

The survey also shows a trend to more efficient irrigation practices. More acres were irrigated by sprinkler systems and less with gravity irrigation. Since the last survey in 2003, area irrigated by sprinkler systems has increased by 15%, while area using gravity irrigation decreased by 5%.

From 2003 to 2008, a total of 74,846 farms implemented changes in equipment or management practices that reduced energy use and/or conserved water. Nearly 46% of the farms reported a reduction in energy cost, and 59% reported a reduction in the amount of water applied.

For the first time, the survey also collected information on the amount of recycled and reclaimed water used for irrigation. There were 9,843 farms reporting use of recycled water and 3,205 farms using reclaimed water, for a total of more than 2.5 million acres.

You can view the survey results at www.agcensus.usda.gov.

 
---
Energy and Water Research Moves through Congress
The Energy and Water Research Irrigation Act, H.R. 3598, is intended to ensure consideration of water intensity in the Department of Energy's research, development and demonstration programs.

The bill provides for advanced efficiency technologies and practices to minimize water consumption, use nontraditional water sources, consider the effect climate change could have on water quality and quantity and understand the energy needed to provide water supplies. 

Introduced by Rep. Bart Gordon (D-Tenn.), chairman of the House Committee on Science and Technology, the bill would direct approximately $240 million to be authorized between 2011 and 2015 for energy and water research.

H.R. 3598 passed the House on Dec. 2, 2009, and was referred to the Senate Committee on Energy and Natural Resources.

You can check on the bill's status at http://thomas.loc.gov by searching for bill number H.R. 3598.
 
---