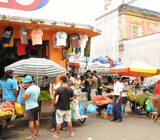 It's the end of the world as we know it. OK, maybe just the Third World. That was the common theme coming out of the Federal Reserve Bank of Kansas City's Regional Symposium yesterday. 
Economists at the International Monetary Fund (IMF) are predicting a return to relatively rapid worldwide economic growth this year and for the next five years. "These are traditionally the most conservative economists in the world," says Deere & Co. economist J.B. Penn. "I don't believe we'll see a double dip [in the economic recession]."
The key to all this, he says, is that this growth is sending the world into two camps: developed countries with mature economies; and emerging markets that will bring the greatest opportunity for market growth of agricultural products.
IMF's projections call for worldwide economic growth to return to positive levels this year, topping the 4% mark. That trend is expected to gain strength through 2015 to reach growth levels of about 4.5%. Emerging economies in Asia, Africa and South America will lead this growth and hold huge opportunity for agricultural producers.
Even if developed economies return to growth mode, which the IMF expects them to do this year, the overall impact on worldwide growth will be minimal. As an example, Wesley Batista, CEO of JBS Swift USA, told the symposium that the economic downturn in the U.S. did not affect his company that much. At the same time, a 5% growth in the U.S. GDP would not bring a jump in sales.
According to the IMF, there was worldwide economic growth in 2009 of about -1%. The developed world approached a negative rate of 3% and the developing economies still showed a growth rate more than 2%. The developing world is expected to jump to more than 6% this year and gradually increase until 2015.
---