Ken Hobbie has the "faith of Job" in America's ability to feed the world. Despite this summer's flooding and delayed crop progress, the president and CEO of the U.S. Grains Council is convinced American farmers will surpass corn crop projections to satisfy demand both at home and overseas. USDA's August crop projections show a half-billion-bushel increase in corn crop estimates over July, strengthening Hobbie's convictions.

"I've spent the last six months reassuring international buyers that we continue to be a reliable source of feed grains," Hobbie says. "We've finally got the world turning to us for their needs, and we don't intend to lose customers now."

Despite higher corn prices and still comparatively high ocean freight rates due to fuel costs and strong demand for ships, U.S. corn exports to all nations are up 9% over year-earlier levels. In its August report, USDA raised global consumption of U.S. corn to nearly 800 million tons, up from a record 775 million tons earlier this year.

Yet the outlook for tight corn ending stocks and doubts about the actual size of this year's crop provide a daily reminder of the razor's edge that grain supply/demand will be on for the rest of the year. Even before June floods, U.S. corn stocks fell to the second tightest in history and world stocks hit record lows. It will take "everything we've got," admits Hobbie, to meet livestock, ethanol and export demand going forward.

Weak dollar as strength. Normally, higher crop prices lead to lower crop exports, but the weak dollar has been offsetting that impact, says Mike Woolverton, Kansas State University ag economist. "Simply put, $6/bu. corn in the U.S. looks like $4/bu. corn to overseas buyers."

The dollar has been showing signs of strengthening (see "Market Strategy"), but according to the International Monetary Fund and the Federal Reserve Board, through USDA, it is expected to remain weak for the rest of 2008. They say it is likely to continue to decline versus the Japanese yen and the Taiwanese dollar, hold steady against the Canadian dollar and the Mexican peso, and strengthen versus the South Korean won.

"These trends bode well for U.S. agricultural exports," says Chad Hart, director of the Center for Agricultural and Rural Development at Iowa State University. In fact, averaged over all U.S. agricultural trading partners, the dollar is projected to decline by 9% this year.

Hart adds that the weak dollar also mutes price signals for international producers. For corn, the 2007/08 production response amounted to less than a 1% production increase internationally, mainly from South America and South Africa.

"In the long term, we should expect a larger international acreage response to the high crop prices we see today, but the weak dollar is currently mitigating some of that response," Hart says. 

Who's buying? With record-high U.S. corn prices, the big question this year is "who's buying?" The answer may surprise you, says Rich Nelson, director of research for Allendale, Inc., a commodity research advisory firm in McHenry, Ill.

While Japan is the single largest buyer of U.S. corn and last year accounted for 29% of total U.S. exports, the current situation is a little different, Nelson says. The U.S. dollar is not at major lows against the Japanese yen. Therefore, the Japanese are feeling more of the effect of the higher U.S. corn price, and sales to Japan are up only 6%.

However, total U.S. corn sales are currently running 17% ahead of last year at this time, Nelson says. "This means that on average, every other foreign buyer is buying U.S. corn at a 22% higher clip," he says.

Many overseas livestock producers have built their operations specifically on U.S. corn imports, says Woolver-ton. "The U.S. has been consistently supplying about two-thirds of global corn exports."

That will change as producers around the world respond to high prices, Woolverton adds. "Feed grain production is increasing this year due to good harvests of barley in Russia and Ukraine and good corn harvests in China and the Philippines."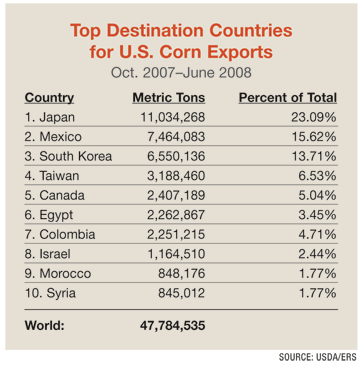 Distillers' grains. Meanwhile, export sales of U.S. distillers' dried grains with solubles (DDGS) are growing at a steady pace. So far this year, Japan has imported nearly 84,000 tons of U.S. DDGS. Feed grain exports to Taiwan have also improved.

"If we're going to see growth in ethanol production and, as a result, distillers' grains, then it's positive the co-product is finding a home in the international market," says Hobbie.

Keeping the faith. Prosperity for U.S. corn growers will continue to hinge on strong exports, believes Hart. Over the next decade, USDA projects that ag exports, including corn, should continue to rise steadily.

Future exports will be influenced greatly by supply conditions at home and abroad. Weather events may have slashed world crop production last year and given U.S. producers an opening into the market, but this year, world corn trade is stronger.

"Maybe this year won't be as robust as last year, but we have at least seen the length and breadth of the demand out there," says Hobbie. "Unless some significant economic downturn occurs, it will be hard to retard that demand going forward."

China's Potential
Just as China welcomed the world to the 2008 Olympics, there is promising potential for China to welcome U.S. grains exports soon, says Cary Sifferath, U.S. Grains Council's senior director in China.

"The Chinese government is engaged in a balancing act: It wants grain prices to be as low as possible to keep food inflation to a minimum, but at the same time is trying to keep prices high enough to encourage farmers to continue producing," he says.

While China's food prices are up substantially, the country's corn prices have not risen at all, says Scott Rozelle of Stanford University. Currently, the Chinese government has restricted grain exports to everywhere except Taiwan, which is considered a domestic market, and North Korea. In addition, Rozelle says, "they have taken national stocks that were put aside to protect for disasters and have been selling those onto the market to keep prices down. So they've been effective at keeping prices steady. But the gap between China's prices and world prices is high."

With 1.4 billion Chinese and 3 million new middle class in China every week, the country is experiencing significant economic growth. "As incomes grow and demand for meat and livestock products rises, China just can't produce the feed it needs," says Rozelle. And there is no opportunity for China to expand its land base. "So in the long term, China is going to be a very good market."

Read the Web Extra bonus content.

To contact Jeanne Bernick, e-mail JBernick@farmjournal.com.


---
Top Producer, September 2008