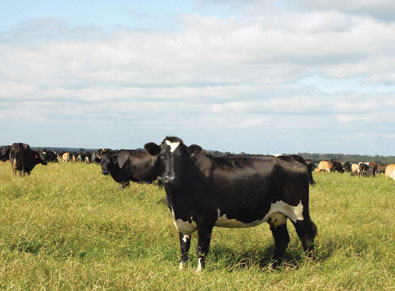 Could this be the face of Missouri's dairy recovery—cows that thrive on grass?
It's no secret that Missouri's dairy industry has been on a slow path of decline for years. Heat, humidity and seemingly better cropping elsewhere have pushed cows and their milk production out of the "Show-Me" state.
But an infusion of capital from New Zealand, well in excess of $50 million, has put as many as 10,000 cows back onto the state's pastures. That number of cows now represents nearly 10% of the state's total dairy herd.
The dairies, typically in 500- and 600-cow pods, utilize New Zealand–type intensive grazing, modified and hybridized to accommodate the Missouri landscape. The Kiwi dairies are clustered in the southwest corner of the state around the cities of Nevada, Joplin and Springfield and in the Missouri Bootheel.
These grazers, many of them Holstein-Jersey crosses, aren't barn-burners when it comes to milk per cow. Yet their sheer numbers have gotten the attention of dairy producers and state officials pushing to revitalize Missouri's dairy infrastructure.
"Missouri has not seen this kind of investment in production agriculture within the past 25 years, if not longer," says David Drennan, executive director of the Missouri Dairy Association. "And the New Zealanders are here for the long haul. That's good news for everyone, since it means more business for veterinarians, dairy suppliers, equipment dealers and processors."
Cheap land, at least by New Zealand standards, decent grass-growing weather and water are the three things that attracted the Kiwis. When they first looked at Missouri four to five years ago, they modeled their investments on $1,800 times three, says Tony Rickard, a dairy specialist at the University of Missouri.
"The formula was $1,800 for land, $1,800 for the cow, and $1,800 for infrastructure—the parlor, pasture lanes, fencing and water," he says.
Those numbers have since jumped for all three, he says. "But we can still purchase land for less than $3,000 per acre, and maybe less than $2,500." And the investment needed for a grazing dairy in the U.S. is considerably less than for a conventional dairy using freestall housing and total mixed ration feeding.
On New Zealand's North Island, dairy farms are selling for $18,000 to $20,000 per acre. On the South Island, land is selling for $12,000 to $15,000—still far beyond what dairy producers can justify.
"The land is here and the climate is here that makes it affordable to dairy here," says New Zealander Tony Coltman of Focal Dairy, Nevada, Mo.
Coltman milks 4,000 cows on three dairies. Two of the dairies milk in 50-stall rotaries; the third milks in a double-40 swing-over parlor.
"It is easier to dairy in New Zealand," he acknowledges. "There, the climate is more forgiving and we have less extremes."
The summers aren't as hot for as long, and while New Zealand gets cold weather, the winter doesn't last for weeks on end. "How the pastures and the animals have to respond here in Missouri is quite a bit more difficult," Coltman says.
Kiwi Peter Gaul,
with Tiller Investments, has started two new dairies with 1,150 cows—and room for 1,500—in Missouri's Bootheel region near Fagus. In the near term, Gaul's group hopes to raise an additional $10 million to $12 million to build two more dairies. "We'll review our medium- and longer-term growth options subsequent to their completion," he says.
Southeast Missouri simply offers the right mix of soil, climate and water, he says. His group's dairies are patterned after those on New Zealand's South Island, where irrigation is typically used to keep pastures green and productive. So when Gaul went looking for land in the U.S., water for irrigation was pivotal, so to speak. "Water resources here are second to none," he says.
"But we are not trying to be all things New Zealand here," Gaul says. "That would be naive. The U.S. industry has developed cattle and systems that are well suited to your conditions. We are primarily trying to grow as much feed as we can on our available land. Then we harvest that feed 10 to 15 times a year with cows, trying to grow the best crop we can."
Gaul's first year hasn't been an easy romp through the pasture. His paddocks were flooded when the Mississippi River backed up with late spring rains. "And your weather extremes are more pronounced, with periods of hot and cold lasting longer," he says.
Sourcing large numbers of qualified cattle suitable for grazing has also been a challenge. American dairy cattle, he says, don't seem as resistant to disease as those in New Zealand.
Yet he remains undaunted. He continues to seek investors and will work with other dairy producers who are interested in intensive grazing. The more cows grazing, the better it will be for local infrastructure, he says.
Whether the Kiwis can completely resurrect the Missouri dairy industry is still an open question. But there's no question they've revitalized it—and created buzz heard literally around the world.
COOKIE-CUTTER DAIRIES
If you've seen one New Zealand–style dairy in Missouri, you've pretty much seen them all, says Tony Rickard, a dairy specialist in intensive grazing at the University of Missouri.
So Dairy Today tagged along on a pasture walk in mid-July hosted by Wentworth 2 Dairy, located 20 or so miles southeast of Joplin. The dairy is one of eight owned by Grasslands LLC, a New Zealand investment group.
The 400-acre site is divided into six-acre paddocks reached by permanent lanes, growing mostly perennial ryegrass. The farm is now in its third grazing season.
Jeff Hayes, an Arkansas native, manages the dairy on a "share-milker" basis, meaning he is gradually growing his ownership share in the business.
He employs just two other workers to milk and manage 525 cows. The herd is split into two groups, which graze separately. Both groups are milked twice a day through a "40-to-a-side herringbone parlor," what most U.S. producers would recognize as a double-40 swing-over parabone.
At peak production, milking the 500-plus herd takes about three hours. As production drops off, milking time and cleanup drops to two hours twice per day.
The cows are bred for seasonal calving. They are bred with AI semen twice, then bulls are turned in for cleanup. Since cows are so expensive, open cows are being held over this year and will be rebred next spring.
This year, herd production peaked at 60 lb./cow/day. By the time of the pasture walk, the herd average had dropped to 43 lb./cow/day with 12 lb. of supplemental concentrate fed daily.
The pasture walk featured a tour of the dairy's 24 acres of grazing turnips, which were planted in spring to supplement slow ryegrass regrowth during the heat of the summer.
Cows are put onto a controlled strip of the turnips for an hour and a half after milking. Then they're moved to grass for three hours, and then to paddocks with shade trees for the heat of the day.
The turnip ground has since been planted to winter rye and will be seeded to permanent pasture next spring.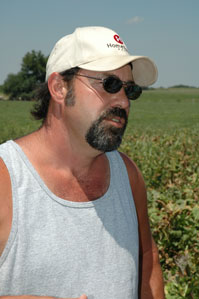 Jeff Hayes, a "share-milker" at one of Grasslands LLC's eight dairies, is building equity through his management of Wentworth 2 Dairy.

GRAZING BY THE NUMBERS
The New Zealand operations are actually latecomers to Missouri's return to pasture-based dairies. Work done by the University of Missouri in the late '90s suggested that intensive grazing systems could work well on the state's soils. The Southwest Center at Mount Vernon, Mo., was converted to a 60-cow intensive grazing system in 1998.
"We were already doing it well before the New Zealanders arrived," says the University of Missouri's Tony Rickard. Several progressive southern Missouri producers saw the potential and turned their cows in to intensive grazing. As they gained experience, they also gained converts, Rickard says.
Today, more than half of the state's dairy cattle are grazed in some fashion, with perhaps a half of those intensively grazing, he adds.
Budgets run from Missouri grazing operations, not including the New Zealand dairies, show respectable operating margins, says Joe Horner, a University of Missouri dairy economist.
In 2007, operating margins that accounted for all cash costs averaged $6.80/cwt. Total cash operating expenditures were $16.09/cwt, including $5.09/cwt for concentrates. (The grazing dairies typically feed about 12 lb. of grain and concentrate/cow/day.)
Total income of $22.88/cwt included $20.59 average milk price, $1.95/cwt in cattle sales and 35¢/cwt in miscellaneous income.
The Missouri grazing group reported a $793 operating margin per cow before interest payments. Amazingly, all of this was achieved with milk production averaging just 11,668 lb./cow.
Over five years, with milk prices ranging from a low $13.68 in 2006 to last year's high of $20.59, the operating margin before interest averaged $735/cow.
Horner has also developed budgets for various sized grazing dairies. See www.dairytoday.com for details.
A 600-cow dairy in southwest Missouri, Horner estimates, would require a total investment just shy of $3 million. That budgets $2,000/acre for 460 acres and $1,600/cow for 600 crossbreds.
"This farm nets $206,663 after all operating costs, labor and depreciation are deducted," he says. That divides out to a net operating income of $344/cow after labor and depreciation are deducted.
Horner also estimates return on assets would grow from 1.8% in Year 1 to 10.4% by Year 5. "The character of the investments in dairy reduces the lender's risk because a high percentage of the initial investment is concentrated in appreciating land and reproducing cattle, rather than specialized assets that are harder to liquidate at full value," he says.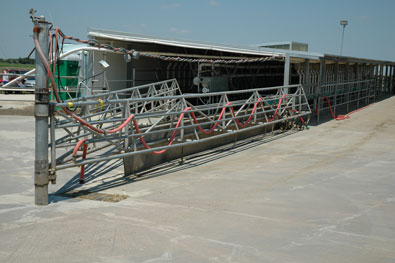 Low-tech swing-over parlors maximize cow throughput while minimizing investments in grazing milking facilities that are used just six hours per day.
Bonus content: