Directly or indirectly, your customers include every single man, woman and child in the U.S.—and more around the globe. Everyone eats. But the richer the country, the more choice consumers have in what they eat—and the attributes U.S. consumers seek are changing.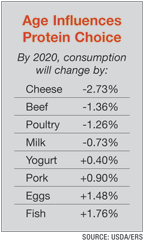 1. Food safety. "Confidence in food safety is at its lowest level since the Alar apple scare in 1989," reports Sharlet Teigen, senior partner at Demeter Communications in Capitol, Mont. "Following the Topps hamburger recall, it dropped 20 points. And consumers are acting upon it. In a Food Marketing Institute survey, more than 35% said they stopped buying something due to worries about safety."

Tony DiMare, vice president of DiMare & Ruskin, a large tomato operation in Florida and California, can attest to that. When tomatoes were implicated in Salmonella-caused illnesses this summer, sales plunged 60%. "Crops were left in the fields, in the packinghouses and on trucks that were turned away by customers," he testified to Congress.

The industry lost more than $100 million in sales. "If you include ancillary costs such as the expense to destroy the product, extra storage and transportation costs, lost labor and productivity, and so on, costs are as high as $200 million," says Amy Philpott of the United Fresh Produce Association in Washington, D.C.

Unlike weather losses, safety issues leave no way to recoup lost markets.

2. Ethnic diversity. The Brookings Institution reports the U.S. has a net increase of one immigrant every 31 seconds. Hispanics could account for 20% of our population by 2020, says Wendy Pinkerton, also a senior partner with Demeter Communications. "These new residents make food choices related to their cultural palate, and as a link to their homeland."

Furthermore, "they eat at home more; they buy more meat, fresh fruits and vegetables and less prepared/ processed foods; and they shop three times more often than the general public." Their grocery bills run $133/week vs. the $92.50 average.

3. One-fourth favor LOHAS (lifestyles of health and sustainability). They believe in products claimed to be natural, organic, authentic, anti-biotic-free, fresh, and local.

This is no longer a fringe idea; it is a worldwide trend. A T-shirt bought at Sam's Club carries a label that says "Track My Organic History From Field to Garment." Following instructions to go to GreensourceOrganic.com and enter a tracking number yielded the supplier as Mavideniz Organic Group,a company that sells 120 organic products from Syria, Turkey, Sri Lanka, Germany and Bulgaria, using over 47,000 acres of cotton grown by 2,500 farmers.

4. Animal huggers. Restaurants and retailers drive the way livestock is raised today. One example: Safeway, a large grocery chain, will increase the amount of poultry it buys from plants using humane chicken slaughter and pork from producers who don't use gestation crates. It plans to double the number of cage-free eggs it sells within two years.

"In the not-too-distant past, our company focused on price, quality, service, and delivery," says Larry Pope, president and CEO of Smithfield Foods. "Today we have a 100-page document on social responsibility, environmental stewardship, traceback, food safety, and community involvement. "Our customers—McDonald's, Wal-Mart, Costco—are forcing us to change how things are done."

5. Carbon footprints. Around the world, "food miles" are catching attention. For example, New Zealand's Lincoln University released a study that found that their dairy products sold in Great Britain use only half the energy and emissions per ton of their British-produced equivalents—even after allowing for 12,000 miles of transportation.

Will your crops receive an environmental score someday? "Sustainability may become more important than organic or natural," Teigen says. "It is more sweeping.

6. Bipolar ages. The under-18 and over-65 age groups are growing fast, and they are nearly equal in size in the U.S. "These groups believe in their causes, and they will change what they buy if they don't feel a company's philosophy and actions align with theirs," says Teigen. In fact, if price and value are equal, 89% say they will switch brands to support a cause.

"These groups represent a functional food opportunity—they favor fish, products high in antioxidants, low-linoleic soybeans, and so on," adds Pinkerton.

7. Choice. "Each producer has to decide for himself or herself whether serving a niche market is an opportunity they want to pursue," says Teigen. "But none of us in the food business can afford to ignore these trends."

Local and nostalgic

Ed Kraklio Jr. and Joe Dennis are riding several consumer trends on the 65 acres comprising Nostalgia Farms outside Maysville, Iowa. They grow chemical-free fruits, vegetables and flowers and sell them locally—some through farmers markets and some through Community Supported Agriculture (CSA).

"We're seeing a surge in interest in buying local since gas and food prices have risen," says Dennis. "Local also appeals to those concerned about safety since fewer handle the product and there is more accountability. We plan to double our CSA memberships to 50 next season and we have a waiting list."

Whereas most CSAs charge a fee for the growing season and members receive a weekly basket containing whatever the farmer packs into it, Nostalgia Farms charges increments of $100 and issues a credit for monies deposited plus 20% to be spent on whatever the member chooses. So if you don't like corn, you can spend your credit on heirloom tomatoes, for example.

Collecting the CSA membership fee in the winter months provides farmers with operating cash and offers an opportunity to survey members about what they want to buy.

To stretch the sales season, Nostalgia Farms uses unheated greenhouses. "We have produce available over 10 months of the year," says Dennis. It also offers nursery plants, bakery items and even free-range ducks, geese, chickens and turkeys, which utilize any leftover vegetables.

To contact Linda Smith, e-mail lsmith@farmjournal.com.
---

Top Producer, September 2008