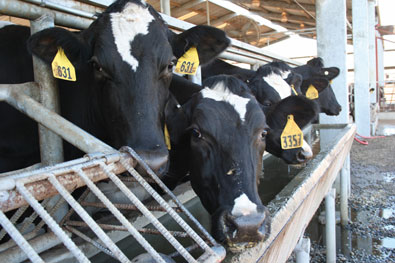 The Pasteurized Milk Ordinance requires complete record keeping when drugs are administered to lactating cows.

Dairy producers place themselves at far too much risk both legally and financially with careless drug handling practices and record keeping.

A 2005 survey by USDA's Food Safety and Inspection Service found that 670 of 94,570 suspect dairy cattle tested had violative residues of an antibiotic. The numbers were no better for 2006: 828 violative residues in 57,486 suspect animals.

Every year, dairy cows and bob veal calves have the highest total number of violative residues. Finding a residue results in condemnation of a carcass—which is a loss of income for the dairy producers.

Mistakes do happen, but the federal government has a 'zero tolerance' of violative residues in foods intended for human consumption, so the beef and dairy industry must work to ensure that proper precautions are taken," says Barbara Knust, a veterinarian with the Center for Animal Health and Food Safety at the University of Minnesota (U of M).

A 2002 study by Colorado State, McDonald's and the National Cattlemen's Beef Association found that 49% of outside round muscles of dairy cows had an injection site lesion. The result: nearly $70 per head in losses.

Lax records. A 2006 nationwide study of dairy farms with more than 200 cows, conducted by Pfizer, found that 42% did not keep complete written treatment records. A 2005 Pennsylvania survey of large and small dairies found that 48% did not consistently keep written records.

And a 2007 U of M study of mostly small producers in Minnesota and the Dakotas showed that 10% kept no records at all. Only about 30% of the farms surveyed had written diagnostic protocols in place, and fewer than 40% had treatment protocols.

"Thirty-three percent of dairy farmers admitted that they sometimes, rarely or never kept a record of antibiotics given," Knust says. She reminds such producers that the Grade A Pasteurized Milk Ordinance requires a complete record of all drugs given to lactating cows.

Veterinarians should be consulted on proper injection techniques, Knust says. For example, flunixin was second only to penicillin in detected residues in 2005. "This is likely because many people give the drug extra-label—either intramuscularly (IM) or subcutaneously (SQ)—rather than the labeled intravenous (IV) route," she says.

The Food Animal Residue Avoidance Databank (FARAD) indicates that flunixin should not be given IM or SQ because it takes much longer to clear from the body and causes injection-site lesions.

"FARAD recommends a 30-day withdrawal for meat if a single [flunixin] injection has been given, but extends the time to 60 days if there were multiple IM injections. An extended milk withdrawal of 72 hours is also recommended," Knust says. "In order to avoid such a long meat withdrawal, we must only use flunixin IV."

Label directions should always be followed unless a veterinarian prescribes otherwise. When such an extra-label use is prescribed, an appropriate withdrawal time must also be specified.
Examples of extra-label use include increasing or decreasing dosage, changing the route that the drug is given (from IV to IM) or using the drug for a different indication than what is specified on the label.
In this time of increased public concerns about the medications that food animals are treated with, we all must use good judgment for every decision we make," Knust says. "And we have to back it up with a complete record to ensure that no residues will be found at the time of slaughter."

Beef Quality Assurance guidelines indicate SC and IM injections be given in the neck to avoid lesions in the round, sirloin and chuck. Yet the 2007 U of M survey shows that producers are still giving the vast majority of injections in the hindquarter and rump.
Knust recommends using the neck for injections that are likely to cause lesions, such as drugs that require more than 5 ml or are known to cause inflammation.

In one recent NCBA survey, 4% of dairy cows had medium legions, ranging from the size of a golf ball to the size of a softball. Three percent had major lesions, with the affected area larger than a softball. And another 2% had extreme lesions where entire cuts of meat had to be discarded.

Knust recommends using the neck for injections that are likely to cause lesions, such as drugs that require more than 5 ml or are known to cause inflammation.
---
Bonus content:
The Milk & Dairy Beef Quality Assurance Center offers programs designed to improve the quality of milk and dairy beef.

"Dairy Beef: Maximizing quality and profits" is a course offered by the University of California-Davis. This dairy beef program educates producers, farm advisors, and dairy veterinarians on issues in market cattle food safety and quality, and provides tools for assessing and certifying on-farm quality assurance programs.

The Minnesota Beef Council also offers informaiton on dairy beef quality assurance. Check out their Web site for more information.

Click here to read resarch from the Journal of Dairy Science on "Frequencies of Injection-Site Lesions in Muscles From Rounds of Dairy and Beef Cow Carcasses."
 
Click here for the Spanish version.