Soft Touch at Harvest





With the Soft Touch technology Oxbo developed for seed corn harvesting, the company has designed the 50 Series corn heads for gentle, efficient ear removal. The Oxbo 50 Series corn heads cut the ear off the stalk with exclusive tapered intermeshing knife rolls and remote actuated stripper plates (RASPs). Combined with Oxbo's beveled and chromed stripper plates, the constantly centered RASPs create straighter stalk pulldown into the stripper plates, precise ear removal, reduced ear damage and less trash in the combine. The 50 Series is available in sizes ranging from 6-row to 14-row with 30" spacing and limited configurations in 20" spacing. Designed for all crop conditions, the Oxbo corn head has a unique row unit frame for a lower profile without frame damage or ground interference. Base price: 6-row, $49,385; 12-row, $91,555. Contact: www.oxbocorp.com.
---

Drill Built from Farmers' Requests





For the first time, Landoll introduces a full line of grain drills. The 5530 Series is designed for use in conventional to no-till conditions and features a planter-style seed tube. The drill has an air-spring-opener down pressure system to provide consistent down pressure. A fully hydraulic opener bar allows operators to lift the openers at the end row without having to lift the entire drill. The 5530 Series is available in 30' and 40' widths, 7½" or 10" spacings. The box is designed so you can use it 60/40 split for dry fertilizer or flip the damper for 100% seed, 3.25 bu. per foot. Patent pending soil hold-down strips discourage moist soil from sticking to the sides of the blades. Contact: a Landoll dealer; www.landoll.com.
---

Designed in the Hay Field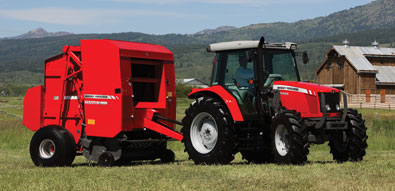 With a new design from the ground up, the Hesston 2800 Series from Massey Ferguson creates two round baling sizes–4'x6' and 5'x6'. The machines offer auto-tie and the optional Auto-Cycle, which manages bale formation from start to finish. High intake capacity comes from a wide and functional pickup design similar to that of Hesston large square balers. A rotor feeder system with side augers feeds the crop into the bale chamber. New mesh wrap features include a lower loading height and simplified
mesh feeding and routing. The state-of-the-art Quad Cylinders System provides control over belt and bale tension. The drive system has five drive chains and a reversible 540 PTO or 1,000 PTO gearbox. Price range: $31,310 to $50,729. Contact: a Massey Ferguson dealer; www.masseyferguson.com.
---

Smaller Package, Same Performance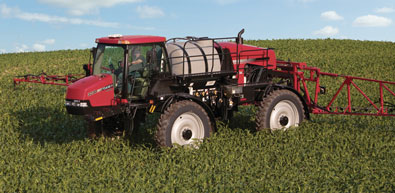 Building on Case IH's lineup of self-propelled sprayers, the Patriot 3230 is the smallest in the series, with 220 hp, 800-gal. capacity and a turbocharged engine that puts out 752 ft.-lb. of peak torque. This sprayer features the Surveyor cab and amenities found on larger Patriot sprayers. The elliptical product tank is available in stainless steel or poly construction. All Patriot sprayers offer precision control of boom height, rapid changes in spray nozzle rate, GPS-guided boom-section control and fully automated steering. Contact: a Case IH dealer; www.caseih.com.