Machinery's Main Stage

The largest indoor farm machinery show in the country lives up to its name. The 44th annual National Farm Machinery Show (NFMS) took place Feb. 11 to 14 at the Kentucky Fair and Expo Center in Louisville, Ky.

There were more than 1.2 million square feet of displays, and turnout was the second highest recorded, with 306,700 people in attendance. More than 800 exhibits included the newest in precision ag technology, from the latest introduction of row-crop tractors to revolutions in planter design.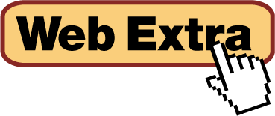 A team of Farm Journal editors canvassed the show floor to learn about all the new iron during the four-day event. Be sure to go online to see our videos, photos and news updates from the event.

In the adjacent conference center, Farm Journal hosted seven free educational seminars for farmers. Back by popular demand, Farm Journal Field Agronomist Ken Ferrie and Farm Journal Economist Bob Utterback each presented two 90-minute seminars. A standing-room-only crowd attended a live taping of the "U.S. Farm Report" marketing roundtable moderated by Al Pell and John Phipps. In response to our readers' requests, we twice replayed the taping from the Farm Journal Forum of the "Conversation with the Secretaries" roundtable discussion with seven past Secretaries of Agriculture.
---

Ag Leader Unveils Planter Clutch

Ag Leader Technology introduces the SureStop electric row clutch for row-crop planters. SureStop clutches are designed for chain drive seed meters and install on the inside of the row unit between the seed meter and the drill shaft sprocket. Electric clutches require a 12-volt power supply but not an air compressor tank. SureStop clutches are a component of Ag Leader's SeedCommand system, which uses GPS to turn planter sections on and off based on field maps and planted areas. The system is compatible with the Edge or Vision displays. The SeedCommand system controls up to 36 sections. The customized installation kit includes the clutch, wiring harness and two precut chains. List price: $308 per row. Contact: Ag Leader Technology, P.O. Box 2348, Ames, IA 50010; (515) 232-5363; www.agleader.com.  
---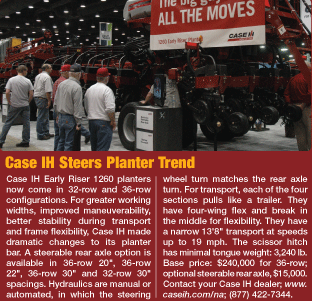 ---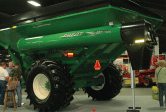 Downspout Design

The Brent 82 Series grain carts from Unverferth include 1,000-bu., 840-bu. and 750-bu. models. A turret-style downspout with a 60º rotation fills corners and tops off loads. The downspout folds back and within the dimensions of the cart, allowing narrow transport. Undercarriage choices include high-flotation single tires, straddle duals and tracks. Control of the upper and lower auger is channeled through the Soft-Start mechanism and unloading speeds are up to 500 bu. per minute. Base price range: $33,250 to $45,450. Contact: Unverferth Manufacturing, P.O. Box 357, Kalida, OH 45853; (800) 322-6301; www.unverferth.com.
---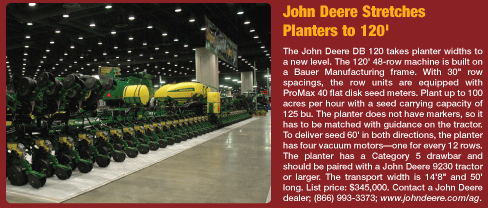 ---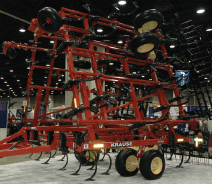 Updated Cultivator

To replace its 5630 field cultivator, Krause introduces the 5635 model. Sizes range from 20' to 50' featuring a 6" overall spacing, and all model sizes are available with Krause 24/7 Leveling Systems, which use a combination of either 3-rows, tines or spikes with a reel for residue distribution and clod sizing. The 5635 offers two shank mounts with 180-lb. to 190-lb. point load, a two-piece K-tine or spring cushioned mount with 15" trip height for rocky soils. Working depth is determined with positive mechanical depth control and standard self-leveling hitch with gauge wheels on each wing section. For simplified connections, the tractor interface center prevents hydraulic hoses from binding in turns and provides storage and light hook-up. Price range: $26,400 to $71,500. Contact: Krause Corporation, P.O. Box 2707, Hutchinson, KS 67504; (620) 663-6161; www.krauseco.com.


 
---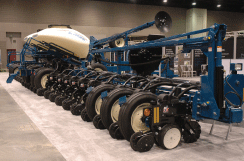 Kinze Debuts a Duo of Planters

At the 2008 National Farm Machinery Show, Kinze rolled out its Air Seed Delivery (ASD) system on the 3660 model. This year, the company displayed the 3800 ASD model, which will be available for the 2010 planting season. This 24-row 30" spacing planter is built with two centrally mounted 55-bu. hoppers with the ASD system. The planter can be used with the Kinze Vision or Kinze Cobalt monitoring systems. It features a dual motor variable-rate hydraulic driveline. The toolbar frame is segmented with three sections, and the machines have a dedicated transport axle with four Super Single transport tires. An optional 500-gal. liquid fertilizer package is available as well as air-actuated single row clutches for automatic or manual shutoff of rows. List price for a popular version of the 3800 ASD: $162,676. Contact Kinze Manufacturing, P.O. Box 806, Williamsburg, IA 52361-0806; (319) 668-1300; www.kinzemfg.com.