This story continues our Machinery Maker Series that features the founders and families behind
today's prominent shortline farm equipment manufacturers.

The storage bin is a postharvest destination for grain, but not for Eugene Sukup. He launched his business from inside the bin.
In the 1960s Eugene raised hogs in north-central Iowa. When he built his first on-farm bin in 1962, he recognized a need for drying grain in the bin.
"I put up a bin and put fans on it, but after we put the first year of corn in, it started sprouting out the top," he says. "I got a stoker auger from a local welding shop. I added an electric drill and took a chain and hung it from the top of the bin."
Eugene built five of those units and took them to an equipment dealership. Only three sold, and one was returned. But he knew he could build it better.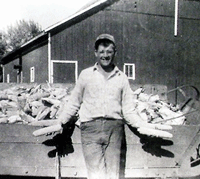 He returned home, added a horizontal auger to automate the system and ended up selling thousands of Stirway stirring machines. According to Eugene, it was able to mix 6% moisture corn at the bottom of the pile and 21% on the top for a consistent 15% throughout.
In 1963, Eugene started Sukup Manufacturing Company from a small welding shop in Sheffield, Iowa, and the family's home. At that time, the industry was transitioning from ear corn to shelled corn.
"Eugene designed the gear motor and laid it out on the kitchen table," says wife Mary. "We used to have sales meetings in the basement. Eugene gave presentations all day long, and we served lunch out of the kitchen." Their son Charles remembers his mom with 100-lb. bags of potatoes beside her, peeling them for the company picnic.
Today, Sukup Manufacturing is the largest family-owned grain system manufacturer. Its product lineup includes a full line of grain handling products, including dryers and bins. Three generations now work for the family business.
"Dad says he thought it'd be cheaper to raise an engineer than hire one," says Charles, who joined the company after earning his degree in agricultural engineering at Iowa State University.
Son Steve earned his industrial engineering degree and returned to the family business. He served in the Iowa Legislature from 1994 to 2002.
Currently, Eugene serves as chairman of the board, and Mary is the corporate secretary. Steve is the company's vice president and chief financial officer. In 1995, Eugene turned over the position of company president to Charles.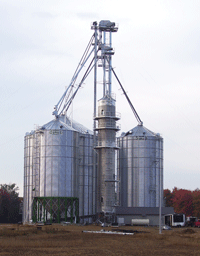 Sukup's business was built on recognizing a need in the industry and providing a solution. As the industry evolved, so did the company.
"At one time there were 25 grain bin companies, and we supplied them with stirring machines—then fans, power sweep unloads and air tubes," Eugene says. "When bin companies started to build their own accessories, we were being squeezed."
Then, the bin business consolidated and whittled down to six manufacturers.
"In the late 1990s, with consolidation, we got concerned about what was happening around us, and we took control of our future by making bins," Charles says. "It turned us and our customers on our heads. We became a one-stop shop for storage and drying needs."
To enter the market and be able to put their name on grain bins, the Sukups added 150,000 sq. ft. to their facilities. Eugene jokes that they may have hid their name for too long.
"We were in business for 40 years and were keeping our name in the bucket," he says. "With our bin business, we're lucky our name stands out: 'Look up, it's Sukup!'"
Before jumping into the bin business, the family evolved with the industry by growing the company through product development and acquisitions.
"When we first started, we built the product in Sheffield for customers west of the Mississippi, and a company in Illinois manufactured for east of the Mississippi," Eugene says. "When their contract was terminated, we took on all of the manufacturing."
Expanding geographically led to diversified product development.
Sukup Manufacturing Statistics
 Employs about 400 people

Draws employees from a 30-mile radius to Sheffield, Iowa, facility

Owns manufacturing facilities in Sheffield, Iowa, that cover more than 450,000 sq. ft.

Operates six distribution centers: Arcola, Ill.; Aurora, Neb.; Cameron, Mo.; Defiance, Ohio; Jonesboro, Ark.; and Watertown, S.D.

Holds more than 90 U.S. patents

Sells products in the U.S. and 50 foreign countries
"When we started selling stirring machines in Illinois and Indiana, we started building fans because they pioneered drying in those areas of the Corn Belt," Eugene says. "That helped us build and extend our reputation."
Through acquisitions, Sukup Manufacturing has expanded its offering of bin floors, fans, heaters and small implements. The company has been awarded 90 U.S. patents.
Despite the numerous changes throughout the years, Sukup Manufacturing has continued to make a product the family can be proud of—something Eugene realized the importance of early on.
"I sold the first one [Stirway] to a farmer in the area, and I saw that customer years later. He remembered it could dry corn twice as fast, and he could fill the bin, stir it and forget about it," Eugene says.
As a manufacturer, Eugene has applied lessons from the field.
"Being a farmer raised in the 1930s, I recognized the value in buying equipment at auctions to allow us to make products economically," he says. "As we got larger and made more products, we bought the newest and best equipment to give us an edge in quality and efficiency."
Steve says their advantage in the business is quality control and manufacturing's ability to respond for delivery since they make the majority of their parts in-house.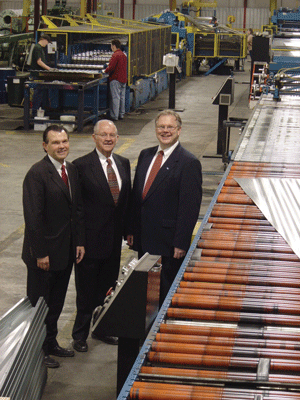 All three company executives say that the past three years have provided unprecedented demand for storage. Farmers have always been Sukup's largest customer group, but another industry has emerged with sizable demand: biofuels.
"The biofuels market has given us more year-round demand for our grain bins and products," Steve says. "Storage puts marketing opportunities back with our customers and their storage options. The biofuels market gives farmers greater options with this storage."
In 2008, this surge prompted the company to hire 100 people, add a second line and secure an additional 100,000 sq. ft. of manufacturing and shipping capacity. A new machine was installed earlier this year that doubles the capacity for building bin sidewalls.
"We see more opportunity in bio-fuels than just storage and drying equipment," Charles says. "Dad is the classic entrepreneur. We had a cob burner in 1973 and a method to pick up cobs and put them in the wagon."
The company has relocated only once, from the original welding shop to the facility where it is today, which was built in 1969.
"In the old welding shop, that is where you'd go when you got off the school bus," Steve says. "I learned to weld when I was in the 5th grade and ran a torch in 6th. I poured the concrete at the current facility when I
was a freshman in high school. It's quite different today. We have high-tolerance equipment, new lasers, robotic welders, computer-controlled machining centers and lathes."
The company broadened its business overseas when the Sukups sold their first grain bin internationally in 2002. The family claims to be the largest manufacturer of grain systems whose owners are all within a single area code.
Within the past four years, the third generation has come to work at the family's company. Eugene and Mary's grandchildren include Nick, a production equipment manager; Crystal, who works in human resources; and Andrew, who works in the plant running a robotic welder. Two other members of this generation, Emily and Elizabeth, are in college and have done summer internships at the company. Grandson Jonathon will start college in 2009.
"Today, the greatest part of being in this business is the international expansion and having the family involved in the business," Eugene says. "I always wanted to remain a farmer, and today I still farm 160 acres. It helps me keep a pulse of what's going on and when there is a need for something." 
Fast Facts
Current company sales are five times what they were 15 years ago. 
Employees who have been with the company for 10 years are awarded a trip to Hawaii with their spouse.
Of the first three employees Eugene Sukup hired, two are still with the company.
The first manual for the Sukup stirring machine was laid out on the family kitchen table.
In 2007, Eugene Sukup was inducted into the Iowa Inventors Hall of Fame.
The line that bends the bin roofs is 300' long.
---
You can e-mail Margy Fischer at
mfischer@farmjournal.com
.