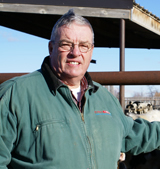 Dr. Bill Stouder
Jerome, Idaho
In the dairy business, your cows are your No. 1 most important asset and your employees are next. If you take care of those assets, you are on your way to profitability. A very wise man once said that to be profitable in the dairy business, your cows must be clean, dry and comfortable.
Superior cow comfort is essential for maximum performance. This means protection from weather elements, proper ventilation, minimum time spent standing and good foot health.
Since we house our cows in open lots, we depend heavily on shades in the corrals to keep our cows cool, clean and dry. We calculated that they paid for themselves within four years. The biggest plus was the increase in production during the hot summer months. There was also an increase in production during the winter. And we found that we saved on bedding because of the shades.
It is a must, however, to groom under the shades during the summer.. This is part of the clean and dry portion of comfort. If the water can be contained in the feed alleys, misters also help to cool cows. However, if the water can run off into the corral, the mud that builds up just off the alley neutralizes the benefit of the misters.
Ventilation in the holding pen and the milking parlor helps with cow comfort also. Fans and/or sprinklers over the cows maintain cool, comfortable cows.
It is also important to move the cows through the parlor as rapidly as possible. We feel that the throughput through the parlor should be at least four turns per hour. This helps keep the cows cool and comfortable since they can spend more time in the corral, either eating or lying down.  
 
Moving the cows through the parlor as fast as possible also helps foot comfort. The less time cows spend on cement, the better! Proper and timely foot trimming also will help cow comfort.
 
Cow comfort can be achieved in many ways. Each owner just has to look at his or her facility and think how to make cows comfortable. Visit your neighbors and see what they are doing. 
Stouder's August prices

| | |
| --- | --- |
| Milk (3.5% bf, 3.0% prt) | $16.98/cwt. |
| Cull cows  | $45/cwt |
| Springing heifers | $2,000/head |
| Alfalfa hay (milk cow quality) | $220/ton |
| Whole cottonseed   | $400/ton |
| Ground corn    | $275/ton |
---