Corn and soybean plants can face tremendous stress during the growing season – whether it be from lack of moisture or from extreme temperatures. When foliar diseases also attack plants, this added stress weakens stalk strength, reduces pod fill and causes early leaf loss. With Headline® fungicide, plants spend less energy fighting disease and coping with heat and drought stress, resulting in more energy focused on yield production.
"As we all know, the past few seasons have been very hot and dry across much of the corn and soybean growing country. While no one can predict the weather, BASF recommends growers make a planned application of Headline fungicide to help position their crop for success," said Gary Fellows, Technical Marketing Manager for corn and soybean fungicides and herbicides at BASF.
By helping plants lessen their response to crop stresses, both environmental and disease related, Headline produces healthier plants and growers are better able to avoid yield loss.
Growers are realizing how the plant health benefits of Headline can improve stress tolerance and increase yield advantages. During 2006, Tom Luethje of Bradshaw, Nebraska, saw the results of reduced stress in his corn.
"Headline fungicide gave us good yields and the corn was standing absolutely perfect compared to neighboring fields. Our Headline corn was standing like trees when we went into harvest," said Luethje. "By comparison, a few miles away I had some corn not treated with Headline. That corn was just flat, and we had to put reels on our combines to pick it up. Bottom line – Headline saved our corn. It was just beautiful where we used Headline."
By making a planned application of Headline to control foliar disease and increase Plant Health, growers are seeing advantages such as stronger stalks and better pod fill. With stalk strength resulting in less lodging and fewer dropped ears, growers can count on a faster and easier harvest. Additionally, Headline prevents plants from cutting out on grain fill due to stress, leading to greater seed size than in untreated plants.
"Up until now, we've felt pretty helpless dealing with these late-season leaf and stalk problems," said Jamie Madsen of Minden, Nebraska. "We've seen ears that don't develop all the way and a lot of corn on the ground. That costs us yield we've already paid for."
Madsen saw a significant difference this year, his first season applying Headline on his corn.
"The Headline plants were just healthier and greener on the leaves. There was a lot more photosynthesis going on. And it's standing better in the field," said Madsen. "In the past, we have seen a lot of stalk rot and where we didn't have Headline, the corn was going down significantly."
Growers also are seeing significantly increased yields through the stress-reducing benefits of Headline. J and J Farms in Hinds County, Mississippi, applied Headline when the corn was beginning to tassel during a very dry growing season and they saw outstanding results. The Headline treated plot yielded a 25.3 bu/A increase over the plot that was not treated.
In more than 1,000 on-farm corn trials and 750 on-farm soybean trials, Headline produced consistently higher yields and positive returns on investment. The average yield advantage of Headline treated corn ranged from 12 to 15 bu/A, while Headline treated soybean trials showed a 4 to 8 bu/A advantage in 2006.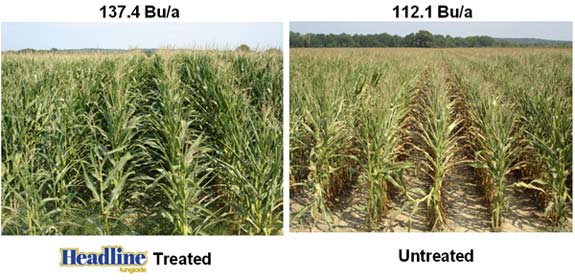 This field in Hinds County, Mississippi, shows that healthier plants are better positioned to tolerate environmental stresses such as heat and drought stress. (Left treated with Headline, right untreated)
For more information on how you can position your crop for success and reduce stress in your fields with a planned application of Headline fungicide, talk to your BASF retailer or visit www.agproducts.basf.com.
Always read and follow label directions.
Headline is a registered trademark of BASF.
©2007 BASF Corporation. All Rights Reserved.
APN 07-01-088-0002v2