Demand Destruction Confirmed
USDA's January Grain Stocks report can have a huge impact on price outlook. It delivers what we actually used the first three months of the marketing year. This report confirms that prices rationed usage quickly.
Corn usage for marketing year 2008/09 is down over a billion bushels from its 2007/08 record, with more cuts likely. This is a 180-degree turn from the focus nine months ago, when everyone was worried about $140 crude, $100 cattle and hogs and $8 corn.
My projected 2-billion-bushel carry-out suggests acres can move out of corn to soybeans with only the fear of adverse weather affecting prices. In fact, a 2-million-acre reduction in corn (see table) isn't enough. A 4-million-acre reduction, supplying a crop near 2005/06 levels, would be possible.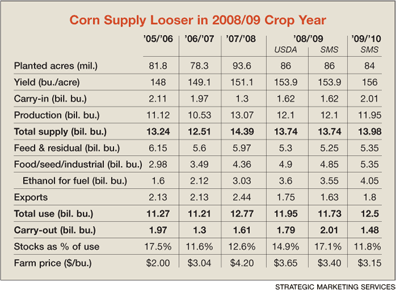 Seeking balance.
Long-term price charts for corn (see Web Extra) point to a return to the beginning of the bull run at $2.60 in September 2006. In a deflationary scenario, it makes perfectly good sense that in the process of wringing out excesses, the marketplace returns to the beginning of the irrational exuberance of commodity inflation.
We have now run the full course: discovering a price ($1.80) that gave the incentive to find new uses (if we can't eat it, we'll burn it) to $8/bu. and fears of a hungry world going without. Now we are discovering the magic price that is "relatively" reasonable in the new global atmosphere of deleveraging, scarce capital, and a focus on savings.
What to do?
Recognize cash is king again and we will likely witness a prolonged period of "attitude adjustment" that will be painful—and one that a quick stop at the local pub won't solve.
Maintain beneficial interest in your commodities. That means using on-farm storage to capture market carries and narrowing of basis. This strategy could yield results equal to your margin of profit per acre just three years ago.
Be realistic in price expectations. There is nothing that can bring back $5 corn, $12 soybeans and $8 wheat short of a major crop production problem in 2009.
Understand the cost of managing risk and the cost of not doing so. The price swing experienced by a 2,000-acre corn/soy farmer from September 2006 to the top in July 2008, to the low in November 2008 and to last month's rally of over a dollar caused gross incomes to swing more than $2 million.
Know the difference between the capital needed to produce a crop (working capital) and the capital needed to realize a profit on production (margin capital). Being unable to capture $6 corn or $12 beans for fear of a margin call or an unsympathetic banker, while locking in $900/ton anhydrous ammonia, was catastrophic in a year of the best profit potential of our lifetime.
These were the best of times, and the worst of times!
---
Jerry Gulke farms in northern Illinois and North Dakota and has a consulting office at the Chicago Board of Trade. Contact Jerry at
[email protected]
or (312) 896-2080.
Top Producer, February 2009