2009—The Year of the Bean?
By Jerry Gulke

Soybean yields in the U.S. appear not to be as impressive as corn this year due to areas with extended dry spells during August. However, in July–September, the market didn't care as prices retraced 50% of the two-year, $11 uptrend. The low shown on the chart came almost exactly two years to the day it all started at $5.26/bu.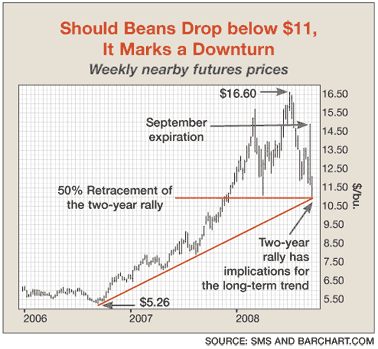 This 50% downward move in soybeans really caught my attention given that corn had already tested its full 50% retracement in August (see corn chart).

I keep in mind that 66% of the time, prices retrace 33% of a major move; there is a 50-50 chance that prices will retrace 50% of the total move; and 33% of the time, they retrace 66%. Will this market aim for 66%? A solid close below $11 would be an indicator of more downside risk.

New range. The price chart above has significant implications going forward. If we consider other great bull markets over the decades, it is apparent that once prices have reached new plateaus and time has allowed cost of production to ramp up, a new, higher trading range may occur. Given that this two-year price surge began at $5.26 and extended to $16.60, my frame of reference for financial planning purposes for the next decade will be a range of $10.40 to $9.40 on the low side if world economics curb demand, to $19 on the high side should a major supplier have a bust.

If prices break last month's lows, my downside objectives may be realized sooner rather than later. Demand may have more to do with that than supply.

Acres. Traders already are focused on 2009 acreage. As I've mentioned before, the corn supply problem is a U.S. problem we can solve by curbing demand while slowly increasing supply by planting more. Soybean users, however, will need to rely on other countries that grow oilseeds—and factors as diverse as currency exchange rates, capital and credit availability play important roles. If non-U.S. response in 2009 is less than desired, it will put more pressure on Chicago futures to buy acres here—and off we go!

On the other hand, if crude oil resumes its downtrend in response to economics, $11 soybeans would compete well with $4.80 corn in the U.S.

We are in unchartered waters from a world economic standpoint, and the "mother of all bailouts" last month has not settled all matters. To pretend that we know how things will come out would be naive. Commodity prices could easily retrace 66% of the great bull move just because of uncertainty. Fundamentals may not matter in the short run.

Small mistakes. Using price charts as a guide and understanding what event created a particular price point in time, and whether/how that fundamental fact has changed, can go a long way toward forming a reasonable perspective and reducing our risk of being wrong. Oh, I expect to be wrong often, but hope for small mistakes. I do not want to be wrong big!

Soybeans have to hold $11 and corn $4.80 on a weekly basis for any lead contract during 2008 and 2009 to keep hope alive. Failure means immediate action is needed. As prices hopefully rally higher, far-out put options with strike prices at such critical levels may become less expensive and allow for a comfortable winter and spring to pass while letting the world of finance, energy and politics calm down. No one said it would be easy, but you still gotta love this country.

Jerry Gulke farms in northern Illinois and North Dakota, and has a consulting office at the Chicago Board of Trade. Contact Jerry at smsjgulke@aol.com or (312) 896-2080.

 
---

Top Producer, October 2008