Alan Levitt
Seasonality has pretty much gone out of dairy pricing, but for 15 straight years, the milk price has been higher in September than it was in August. It looks like this year the streak will be broken, however, and the culprit will be softer demand.
In the first half of the year, U.S. fluid milk sales were down 1.1% and domestic cheese use was down 1.2%, according to USDA. Domestic cheese use plunged nearly 4% in the second quarter alone. In the 52 weeks ending May 17, retail ice cream sales were off 6.4% from the prior year, according to data from the Nielsen Company.
The slowdown in dairy demand is one of the industry's top concerns heading into the fall months. Inventories at midyear were relatively heavy. But they were not overly burdensome, which left the markets open to the possibility of a second-half rally. Now that's looking less likely, because buyers aren't feeling the panic that leads them to bid prices aggressively higher.
It's not just consumers who are cutting back. This year, restaurant food costs are up 8%, while menu prices have increased only 4%, according to a Reuters article in August. Higher commodity prices have squeezed foodservice operators and food processors, forcing them to look at various options for reformulation.
For instance, McDonald's is testing a version of its double cheeseburger—a staple of its Dollar Menu—with just one slice of cheese instead of two. An August Wall Street Journal story noted that ingredient supplier Cargill has seen "increased demand from food makers for dairy substitutes such as enzyme-modified dairy ingredients and starches and hydrocolloids, [which] can replace costlier ingredients like nonfat milk solids in ice cream, processed cheese, yogurt, sour cream and dairy drinks."
USDA forecasts U.S. food inflation of 5% to 6% this year, the highest rate since 1980. This year's jump includes an 8% to 9% increase on dairy products. Food prices and dairy prices are projected to climb another 4% to 5% next year, keeping the pressure on restaurants, food processors and consumers.
For the last few years we've seen a pop in prices in November, thanks to last-minute holiday buying. That may happen again in 2008, but it's likely to be short-lived. Without a recovery in domestic demand, a repeat of the historically high prices of the last two years will not be achievable.
Commercial cheese use in the second quarter (including exports) was down 3%, the worst performance in at least a decade.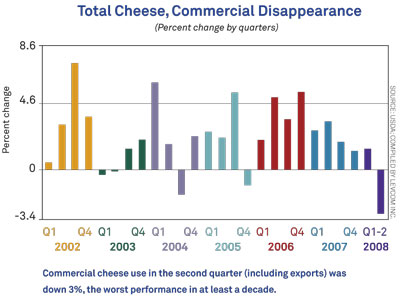 Bonus content:
Click here for USDA-Economic Research Service''s dairy forecast (excel spreadsheet).
To view USDA-Ag Marketing Service''s National Dairy Market at a Glance for the week of August 18 - 22, follow this link.