Tectonic land shifts likely

Stopping by to have a simple cup of coffee with the landowner down the road could pay huge dividends in the very near future, says Iowa State University economist Mike Duffy. The 2007 "Farmland Ownership and Tenure in Iowa" report, released in November, shows that the average age of landowners in the state, as well as other demographics, have changed considerably in the five years since the last report was released, and tectonic land shifts could be on the horizon.

"What we have now is 55% of the land owned by people over 65, and one in 10 acres is owned by a single woman over the age of 75," Duffy says. "It is interesting in terms of ownership changing hands and, for young farmers, how they are going to acquire that asset." Conversely, less than 3% of the state's farmland is owned by people under 35 years old, and that percentage is falling.

"I think a lot of farmers are missing the boat by not stopping by and having a cup of coffee with a landowner from time to time," Duffy quips.

Today, land ownership changes will be largely driven by the amount of land going into trusts, he believes. "I saw a sale bill for an auction of 200 acres, and there were four different trusts and an individual listed as the owners!

"Overall, the majority is still going to go into the family either through a will, sale or gift. But about 18% of the land is going to be going into a trust," Duffy says. "It can be a nightmare when you start to consider how land in trusts is going to be handled and split up." —Greg Vincent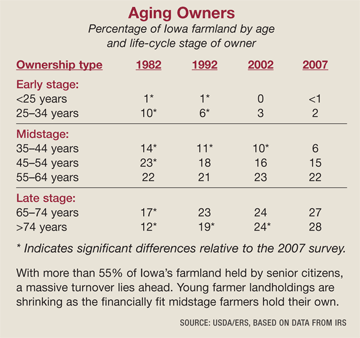 ---

Brush up on crop insurance and ACRE terms

Contact your crop insurance agents soon so you can make the right decision, advises Gene Gantz, a USDA Risk Management Agency specialist based in Pennsylvania. He points out that Jan. 31 is the deadline to enroll or make changes to adjusted gross revenue (AGR) whole-farm protection and to change existing AGR-Lite policies. These can provide low-cost protection as a stand-alone policy or as an umbrella for other crop insurance policies. He adds:

• You must have crop insurance to be eligible for crop disaster payments, and higher levels of crop insurance boost disaster guarantees.

• The maximum upward price movement limit for Crop Revenue Coverage (CRC) or Revenue Assurance (RA) is now two times the spring price, and there is no downside price limit.

• You may get up to an 85% premium discount if you choose CRC or RA as an enterprise unit—but watch out for shallow losses on a portion of your operation, which may not trigger an indemnity.

You also have decisions to make about the new Average Crop Revenue Election (ACRE) and Supplemental Revenue (SURE) programs. Check back, after January 26, for a free Webinar based on Kansas State University economist Art Barnaby's presentation at the Top Producer Seminar.

 
---

Easier acquisition of farm workers

Along with a number of other last-minute regulatory changes, the Bush administration is pushing through revisions intended to streamline the hiring process under the H-2A visa program for temporary farm workers.

"H-2A visas are unlimited, meaning employers can bring in as many seasonal or temporary workers as they need," notes Jacob Sapochnick, an immigration attorney in San Diego. "These regulatory changes to H-2A should help make the immigrant workforce more mobile by making it easier for more immigrants to come and go as they please. Let us see what employers and farming groups will do with these changes and whether it will actually streamline this very complex process."

The United Farm Workers union is critical of the proposal, saying its looser requirements will lead to low wages, low benefits and lack of government oversight.

For a list of the planned changes, see /files/H2A%20Update%2012-11-08.pdf. —Linda H. Smith

 
---

Bankrupt buyer?

Mark Lakers of Agribusiness and Food Associates in Omaha, Neb., which funds mergers and acquisitions, expects the ethanol industry to consolidate from 150 producers to 25 to 50 in the next three to five years—or sooner. Forty producers could be in Chapter 11 by Jan. 31.

Here are a few things to know if your buyer is one of them. With Chapter 7, operations cease and the assets are sold, with the cash distributed to the creditors; secured lenders such as banks are paid first. A case known as In re Childress provided that when a grain elevator files bankruptcy, all farmers take a share of stored grain equal to the debt owed to them before receiving cash.

Chapter 11 encourages a business to continue operations while its finances are straightened out and the business is reorganized, says Ashley Gulke, a California attorney and daughter of Market Strategy columnist Jerry Gulke.

"After a company files for bankruptcy, all of the creditors supposedly can be heard by the court before the reorganization plan is made," Gulke explains. "Go to the court date and be prepared to explain the implications of a loss to your business and family. It is the judge's duty to provide for fair and equitable treatment of all parties—creditors and debtors alike. The judge is permitted to cancel any unfilled contracts, so it's important to make your case." —Linda H. Smith

 
---

New flexibility for cash rents?

Improved lease arrangements could be the result of new rules expected to soon be issued as part of USDA's 2009 direct and countercyclical payment regulations.

Steven Johnson, Iowa State University Extension farm management specialist, believes the Farm Service Agency will loosen rules for renters who sign flex leases, allowing them to use actual planted acres and farm yields to determine flex payments. He also thinks the agency will no longer require government payments—including direct, counter-cyclical and, potentially, Average Crop Revenue Election (ACRE) payments—to be shared with landowners.

"This would put more transparency between renters and landowners," Johnson says.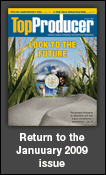 "It also could allow for these flexible cash lease arrangements to continue for all four years of the farm program [2009, 2010, 2011 and 2012]," he adds. "The tenants know they will get to farm that farm, thus working on ACRE enrollment, and building fertility, making more informed machinery/equipment decisions and being able to prepay expenses. December cash rent, plus flex payment, likely matches their year-end income-tax strategy and keeps the landlords' income in one taxable year." —Greg Vincent

 
---

"In a family business, it is not always easy to speak truths with love." Garrett Thompson, Laminators Inc.

"Producers may make decisions based on fear, not On their financial best management practices." David Downey, Purdue University

"Work is the most socially acceptable form of addiction. It can also be a form of escape." John Fast of John Fast and Associates

 
---