Buying nitrogen can be a natural gas

Naturally, you would know that the cost of farming is pretty dependent on natural gas (NatGas) prices. Fertilizer, irrigation and drying costs all hinge on this energy source. There is now an active "mini" NatGas contract that will allow you to hedge against price increases. One contract will meet nitrogen (N) needs for 816 acres of corn at 150 units of N per acre. Or it will dry about 200,000 bu. at 22% moisture.

Right now, the price of NatGas has declined from a contract high of 12¢/mmBTU to 7.9¢. But we expect it to rise. Anhydrous is expensive. If we're going to buy, let's buy what has the odds of rising rather than buying something that has odds of prices dropping.

For a more detailed explanation, see www.ToProducer.com, Web Extra. —Bill Biedermann, www.allendale-inc.com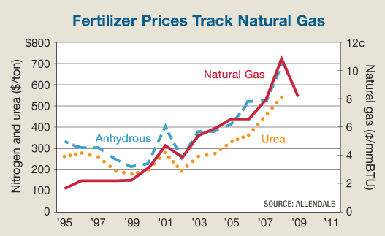 ---

Farmers remain relatively confident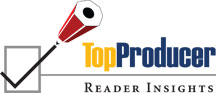 For the past three months, Farm Journal Media has polled its readers about how positive their attitude is. Through July and August, 54% held a positive view of the farm economy's financial health, but that slipped to 39% in September.

At 64% to 67%, more farmers feel positive about their own farm's financial health.

Not all are so happy, however. "Farmers in my area went from highly optimistic to down in eight months," says one Wisconsin grower. "We had flooding and then no rain in August. Yield will be average or a bit below depending where the fields lay and soils. Inputs and risk next year are really stressful. We'll have $600–$800/acre in corn in rents and inputs if they stay where they are and no skimping is done. Breakeven in an average year will be $5/bu. corn. Losses could be huge if not insured and a weather event occurs. Many will plant less corn if prices stay where they are."

See www.ToProducer.com, Web Extra, for a comparison of farm responses with a Gallup poll of consumers. —Greg Vincent

 
---


Stormy times for fertilizer industry

Fertilizer facilities in the Gulf may have weathered Hurricane Ike with only minor damage, but the industry continues to struggle with other issues.

On Galveston Island, Texas, a major CHS Crop Nutrients terminal suffered only cosmetic damage, while flooding and debris in the shipping channel brought fertilizer imports to a standstill. The CHS facility in Galveston is a major hub for urea distribution, moving nearly 500,000 tons a year, says Cheryl Schmura, vice president of crop nutrients for CHS.

"Short-term, we are not worried about supply," Schmura says. "Long-term, however, our concerns are unchanged—fertilizer supplies are very tight." In addition, she says, dealers face restricted credit with the collapse of financial markets. "The banks are going to be even harder on dealers in terms of credit extensions," she says. "Growers really need to talk with suppliers about their planting intentions so dealers can make the case to get the capital to buy inventory for spring."

For more on why supplies are tight, see www.ToProducer.com, Web Extra. —Jeanne Bernick


---

More for your seed money

Don Cantrell is smiling. He just got a break on the cost of his 2009 crop insurance. Last month, USDA's Federal Crop Insurance Corporation announced that irrigated growers in Nebraska and Kansas can qualify for its Biotechnology Endorsement (BE) if they grow certain varieties. "My insurance premiums have nearly doubled in the past few years, and we have twice as much risk today because the crop is worth more," says the Merna, Neb., farmer. "We're already planting triple-stacked seed, so any savings goes right to the bottom line."

For nonirrigated crops, BE applies to Monsanto's YieldGard corn varieties, Pioneer and Dow AgroSciences' Herculex Xtra products and Syngenta's Agrisure. (For a complete list, including states, see www.rma.usda.gov/news/2008/08/fcicbiotech.html.)

A big value-added story this year is in new soybean varieties, says Jerry Harrington of Pioneer Hi-Bred. Pioneer's Y Series soybeans will be its largest product launch ever, he says. Available on a limited basis in 2008, Y Series varieties will be more widely available for the coming year. They make use of Accelerated Yield Technology, which allows the company to incorporate a package of offensive and defensive characteristics that moves it closer to its goal of increasing soybean yields by 40% over the next decade, Harrington says. —Linda H. Smith


---

Get a FREE Tax Makeover!

Are you sure your business is set up properly to take advantage of tax laws and maximize your return? Go to www.ToProducer.com, Web Extra, to download an application form and enter to win a free one-on-one tax makeover with Kennedy and Coe's Lance Fulton.

As he reviews your business setup and outlines the steps you need to take to streamline your business and maximize your returns at tax time, Top Producer will chronicle the process. Any key financial and personal information will be kept confidential.

Apply today!

Application deadline: October 20.

 
---


The taxman cometh

Move now to lower your 2008 tax bill. If you need to reduce income, the tried-and-true methods—paying or prepaying bills, delaying sales into next year and the like—are all good strategies, says Becky Sweet, accountant at Kennedy and Coe. Other strategies include:
• Section 179 deduction (allows you to expense up to $250,000 of depreciable assets)—but only if it makes business sense.
• Start or add to retirement plans.
• Income averaging, which allows you to carry income back three years.

"This year has a lot of political uncertainty, and the outcome could influence your tax strategy," Sweet cautions. "Candidates Obama and McCain are saying very different things about taxes. Obama wants to raise taxes and capital gains, for example. Should that go through, it could affect a farm corporation that pays out dividends this year."

For more information on tax rules and planning, see www.ToProducer.com, Web Extra. —Linda H. Smith


---

One-liners

"I can't predict the future, and I've been wrong quite a few times now." Fed Chairman Ben Bernanke

"Every crisis makes a family stronger." Garrett Thompson, Laminators Inc., Hatfield, Pa.

"As our children emerge into adulthood, do we want to control them [through money], or influence them?" John Fast, John Fast and Associates, Waterloo, Ontario

 
---

Top Producer, October 2008