Book seed early
Some farmers were already reserving their choices in July—especially those who are fussy about seed size, says Brent Johnson of Wyffels Hybrids in Geneseo, Ill., who suggests you budget $90–$100/acre for fully loaded corn seed. "In fact, at a meeting in mid-July we booked 20% of last year's orders in one day."

Look on the bright side—by paying more for certain seeds, you may get a break on your crop insurance! USDA has approved Monsanto's triple-stack corn and Syngenta's Agrisure® for a discount under the Biotech Yield Endorsement program in 11 states (Illinois, Indiana, Iowa, Kansas, Michigan, Minnesota, Missouri, Nebraska, Ohio, South Dakota, Wisconsin) for 2009. For more information: www.rma.usda.gov/help/faq/bye.html. —Linda H. Smith

 
---


Farm Bill tax breaks
Common sense might suggest that changes to the Internal Revenue Code would be made in tax bills, not farm bills. However, the Farm Bill contains at least 16 changes to the tax code—most, but not all, directly related to farmers and farming. Here are several; for more, see www.ToProducer.com Web Extra.

CCC Form 1099. A 1099 must be filed on all Commodity Credit Corporation (CCC) loans repaid after Jan. 1, 2007, regardless of how they are repaid.

Agricultural chemicals security credit. You may receive a tax credit for expenses to keep ag chemicals secure, including risk assessments, employee training and security lighting around storage facilities. The credit equals 30% of such costs, up to $100,000 per facility and $2 million per taxpayer per year.

Conservation easements. For 2008 and 2009, the value of donated conservation easements may be deducted as a charitable contribution up to 50% of adjusted gross income (100% of AGI for persons whose income comes mainly from agriculture) and excess deductions carried forward for up to 15 years. After 2009, donations will be limited to 30% of AGI and may be carried forward for five years. —Allen H. Olson, ag lawyer with Moore, Clarke, DuVall & Rodgers, P.C. in Albany, Ga.

 
---

$5 Corn costs next year
Economics are shifting: Beans might look better than corn in 2009. Consultants at AgStar Financial Services in Mankato, Minn., figure it will cost their large growers close to $5/bu. to grow corn next year (see chart).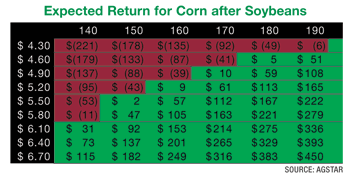 Rent and fertilizer are the biggest drivers in pushing total production costs/acre to $847/acre for corn and $480/acre for soybeans, with estimated profits of $112/acre and $146/acre, respectively.

"We're talking about 2,000-plus-acre growers who have had to bid up rents to get to their size," says Owen Thompson, credit team leader for the AgStar grain group. "I hope that $230 will be the high end of what our growers pay for cash rent. We see some at $140 to $160, but there are also isolated incidents of $300/acre.

"Fertilizer will nearly double in 2009, from $130 to $249/acre on fields with an estimated corn yield of 170 bu.," Thompson says. "The higher fertilizer costs favor soybeans in '09. We might finally see more of a shift to beans, at least to a 50-50 rotation."

For a similar soybean table and more information, see www.ToProducer.com Web Extra. —John Russnogle

 
---

Automatic credit line increase
Farmers are increasingly being asked to assume more supply channel risk as they must pay in advance for high-priced inputs. As a result, John Deere Credit's Farm Plan is offering preapproval credit increases of up to $120,000 for qualified customers.

The initial changes are for existing customers of Farm Plan, says Jayma Sandquist, director of marketing. "We're doing this because input prices have skyrocketed the past 24 months. Our credit policy in terms of cut points for automated credit routines have been in place for several years and this really represents where prices are today.

"We have already run the entire customer database, and we'll have a large number of customers who will be impacted by this change," she says. "We're applying those changes now. If they haven't been alerted to this already, they will be very soon."

If a new retailer begins using Farm Plan, they will match the company's existing customer list with the new retailer list. The program will be applied to those customers as well. —Greg Vincent

 
---

Why investors love farmland now

There is a lot of investor interest in farmland, says Murray Wise of the Westchester Group in Champaign, Ill. He notes that the firm, which invests money for entities such as endowments and funds, holds $600 million worth of farmland for clients. "We currently have $275 million to invest. We're looking every day, but there are few opportunities."

Little wonder, given recent returns (see chart) and a falling stock market, where that money might otherwise be invested.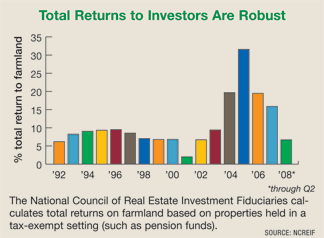 ---

One-liners

"When you work with your spouse, all the things you love about them will still be there. Some days, however, they may be harder to see." Michael O'Malley Jr., The Family Business

"Encourage people who think for themselves. Get them to ask forgiveness, not permission." Pearse Lyons, president, Alltech, Louisville, Ky.

"Good fortune happens when opportunity meets with planning." Thomas Edison


---

Top Producer, September 2008