Three harvesting powers now sit upon the top of combine classifications. This fall, New Holland and Case IH introduced machines to Class IX, which was once only inhabited by the Lexion 590R/595R.
The New Holland CR9080 and Case IH 9120 feature a rated power of 483 hp, with maximum power at 523 hp. Both machines have a grain tank capacity of 350 bu. They are powered by Cursor 13 engines.
The Lexion 590R/595R provide 462 hp, with maximum power at 516. These Lexion models are powered by Caterpillar C-13 engines, and feature 360 bu. of on- board grain storage.
The Case IH and Lexion Class IX machines are available with front axle track systems to provide increased flotation. The Case IH combine can feature its QuadTrac triangularly shaped tracking system. The Lexion 595R features its Mobil-Trac System.
The Association of Equipment Manufacturers clarifies the positioning of combine models within a class by judging classification on horsepower. Previously, grain tank size did account toward a combine's grouping, but that is no longer the case.
How big machines will get? These new additions within the combine segment is proof that machine size is definitely going up. This may only be a plateau until the next peak has been identified.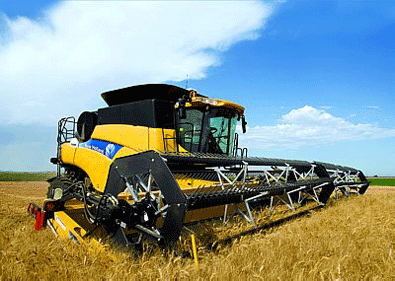 ---
...................................