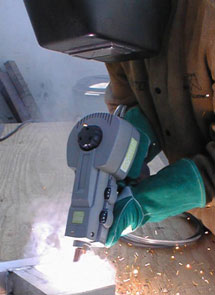 On my flatbed one ton farm truck, I have it loaded with an air compressor, generator, torch, fuel tank, vice and all the tool boxes that would fit. But I didn't have a welder. GOWELD has wire feed that runs off your diesel trucks batteries and fits in it's own tool box.

We welded on a horse trailer on the side of the road to test GOWELD. It worked better with 100% argon gas verses the 25% we tried first. We did break the wire a few times while we got the settings dialed in. We used separate batteries, but you could use the batteries in your truck. You just need to disconnect the truck cables and attach cables to GOWELD in series not parallel. Comes with several tips.

A very versatile welder. Welds weld metal up to 1/2 inch thick with 2 batteries or 1 inch with 3 batteries. Lights on the side of the hand held unit tells you if the batteries are hooked up right or low on power, green for charged and red for low charge. Deep cycle batteries will give you the longest weld time. Which can be 20 minutes between battery charges. Duty Cycle is 50%. We welded aluminum, but GOWELD will work with steel, stainless and hardfacing, reverse or straight polarity. The handle holds a 2 lb spool of wire to handle .023 to .045 diameter size. Priced like a typical shop welder. Welds well.

The military has GOWELD and plasma cutters in many of their Humvees, tanks and armored personal carriers. GOWELD is very portable, the wire spool is in the handle. Just clamp the cables to your trucks batteries, run the hose to a tank of Argon gas or use coated wire and you're ready to weld anywhere. You can even buy a adapter to plug the GOWELD into 110 volt and use it in your shop or garage. Imagine what it would cost to have your broke down trailer towed to a welding shop and pay whatever they charge. Or welding farm machinery in the field. GOWELD could be a valuable tool to a horse trailer dealer, farmer and rancher. I use to use a welding truck when working on irrigation sprinklers or welding feed bunk railing, this could save some money on repairs, just toss the case in your pickup truck.

The GOWELD is a nice, compact unit. The lid opens for loading wire. It's all in the gun, the chassis has the motor, drive assembly, trigger, micro switch, gas valve, circuit board and wire spool, large knobs for voltage and the wire speed ranges from 50-1000 ipm.

For more info go to www.GOWELD.com

Author H. Kent Sundling writes for AgWeb.com via a special agreement with MrTruck.com.