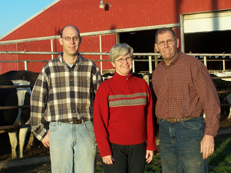 Clint, Janice and Stanley Burkholder
Chambersburg, Pa
What is the ultimate setup for cow comfort? We feel that we can improve on cow comfort with the addition of a freestall barn. Our new freestall barn will have better ventilation due to a higher and insulated ceiling. Something new that we are installing is a three-truss roof system with a tapered ceiling that allows air to flow unobstructed to the center-ridge roof opening.
We are increasing the number and size of fans. We're increasing waterers and water sprinklers and installing a grooved floor as in the previous barn. We're installing longer stall lengths, with cow beds that are compressed rubber with water-resistant, heavy fabric covering and a small amount of sawdust. We'll also put a rubber floor at the feedbunks.
By building a new freestall barn, we will be able to convert other facilities to use for the calving and housing of dry cows.
This should cause less stress and more comfort for these animals.
Different improvements cause cow comfort; each gives various increments of increased milk production. Which has given us the most return on our dollars invested? We aren't certain but feel the cow beds have made a tremendous difference in cow comfort and have had an impact on milk production.
We can make a comparison between cows and humans. If our back and legs aren't hurting, and we get a good night's rest, our work and social performances are improved.
 
Our goal is to see the cows chewing their cuds, lying comfortably in their stalls, eating, drinking and producing lots of milk, which equals a profitable dairy farm.
Burkholders' August prices (paid in Sept.)

| | |
| --- | --- |
| Milk (3.77% bf, 3.03% prt) | $19.32/cwt. (mailbox) |
| Cull cows  | $51.50/cwt. |
| Springing heifers | $2,000–$2,300/head |
| Alfalfa hay (spot) | $180/ton |
| Cottonseed (contracted) | $239/ton |
| Ground corn (local quote) | $236/ton |
---