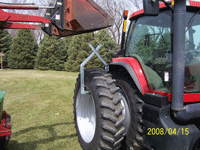 Change It Yourself
The EZ Tractor Dual Changer lets you change your duals in just five minutes. The device can be hung from a front-end loader, forklift or chain hoist. The tire is held securely in place and easily turns on wheels and rollers to assist in lining up the lug nuts. Available in three models for hub mount duals, the changer can accommodate tires up to 28" wide and lift up to 2,000 lb. To use on combine duals, replace the 5" rubber wheel with a 2" wheel to work with all EZ Dual Changer models. Price: $275 for standard model; $310 and $330 for heavy-duty models. Contact: Bierman Sales LLC, 4320 C Ave., Marcus, IA 51035; (712) 324-1930; www.biermansales.com.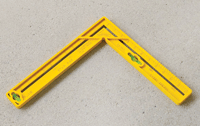 Efficiency Squared
The Level Best2 can level, plumb, square and measure at the same time. This unique tool features two opposing level bubbles, a perfect 90° angle and a ruler. The tool is 12"x12" and ½" thick; a 16"x24" version will soon be available, as well. Two-sided, it can be turned over and applied to all four corners of a project. Level Best2 is made from highly durable polystyrene to withstand all weather conditions. Price: $19.95. Contact: SLK Marketing Group, P.O. Box 241509, Apple Valley, MN 55124; (866) 930-5203; www.levelbest2.com.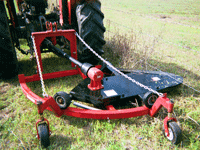 Fence Line Mowing Made Easy
Keep fence lines clear of tall grass and weeds with this new mower from Wright Manufacturing. A trio of models fit tractors with category 1 three-point hitches. Set the height, position the mower under the fence and drive parallel to the fence line. When the mower encounters a post, it automatically mows around it and repositions itself as the operator continues to drive. A cutting width of 22" clips 11" on each side of the fence. A flat cutting blade makes it possible to cut down heavy vines and saplings up to 1½" diameter. Price range: $2,095 to $2,995. Contact: Wright Manufacturing, 1218 Pinsonfork Dr., Spring, TX 77379; (713) 501-5356; www.fencemower.com.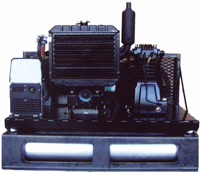 Two in One
Next Generation Power combines a powerful generator and a heavy-duty compressor into one compact, space-saving unit that measures 42"x26"x30". Weighing only 375 lb., the diesel-powered combination produces 20 cfm at 150 psi and
5 kW of electrical power. The powder-coated, belt-driven Schultz air compressor operates at a low 1,000 rpm for longer service life. The unit's generator features a two-cylinder, water-cooled Kubota Z482 diesel engine that runs at mid-speed, peak torque at a comfortable 2,800 rpm. A vortex combustion system creates greater energy output with less fuel consumption and cleaner-burning exhaust. Suggested retail price: $6,495. Contact: Next Generation Power Engineering Inc., 1732 St. Johns Bluff Road, Jacksonville, FL 32246; (888) 463-9879; www.nextgenerationpower.com.