Pam Smith
, Farm Journal Crops & Issues Editor
Two tried and true herbicides
are joining forces in an all-new platform for trait technology.
Regulatory trials are well under way with Dow AgroSsciences Herbicide Tolerance (DHT) traits designed to provide tolerance to broadleaf and grass herbicides, including 2,4-D and "fop" herbicides. David Simpson, a Dow crop protection research and development scientist, says the DHT trait will enable broadcast applications of the two familiar herbicides from burn down through post-emergence with no plant back restrictions. "Weve sprayed at every stage without injury," he reports.
Simpson observes that the new platform will also help growers address brittle snap, malformation of brace roots and curvature of the stalk issues sometimes associated with growth regulator herbicides like 2,4-D.
The company expects to launch DHT corn traits as early as 2012, with soybeans and cotton to follow in 2013. Field evaluation of DHT traits is ongoing in all three crops. In 2008, more than 90 regulated trials are up and growing as the company evaluates gene performance.
One of Simpson's jobs is to push the technology to the limit. "I'm pretty good at breaking things, but so far I've not found a rate that will break it," he says. In soybeans that includes over-the-top treatments at 8-fold rates without injury.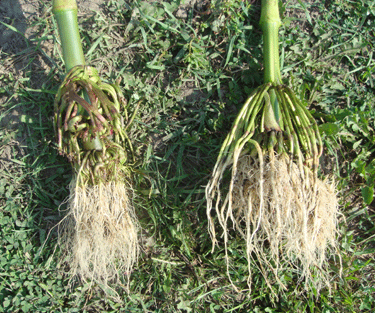 ---