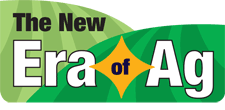 The race for expansion, a virtual sprint the past five years, appears to be settling into a comfortable midcourse jog as the nation's largest producers say they'll focus on management and marketing rather than growth.

Respondents to Purdue University's national Commercial Farmer Survey averaged a 24% growth rate over the past five years, but they now expect to slow down, says economist Allan Gray, interim director of Purdue's Center for Food and Agricultural Business and organizer of the study, which is done every five years.

"In times of uncertainty, we take a cautious approach and we look closer to home," Gray says. "The study implies, even when it was completed in January and February and commodity prices were high, that the incredibly volatile markets had people planning to concentrate on what they have."

Corn/soybean growers, for example, expect to grow 16% in the next five years, a crawl compared with the previous 10 years (top left graph).

"I think a lot of growers look at it two ways. First, when things are going well, why do you need to grow your asset base? Second, when things are going well, assets are overvalued. Smart business people just don't buy assets when they're overvalued," Gray says. "So I think the message is 'why would I buy more land when the 8,000 acres I'm currently running are making a lot of money?'"



Hired out. Also significant is the hefty number of large farmers providing their own production needs, while midsize farmers look to others for service and support. This opens an opportunity for large producers to supply custom application services for others.

On the flip side, farmers will pay a few extra dollars for convenience buying locally. "In the past, larger growers tended to say, 'If I want to go direct to the manufacturer for fulfillment, I can do that.' But that is less common than it was," Gray says.

Skill set. On the financial and risk-management side, Gray believes producers have an opportunity to hone their skills to set themselves apart from the other runners in the race.

Only about half of commercial farmers use marketing tools to manage their risk (about 60% for large growers and 40% for commercial and midsize growers; see "Outlook"). This can be a key to putting these growers ahead of the field.

"I think it's likely that the other 50% don't use tools such as futures and options because they don't understand how they work," Gray says. "There's a lot being written that says those tools aren't as effective as they used to be. I recognize that, but they're not used a lot either. I don't know how we'd know whether they were effective for producers.

"In these times, those who are better at managing risk are likely to be the ones that survive," he emphasizes. "There is real opportunity to get some education on how to manage risk and uncertainty."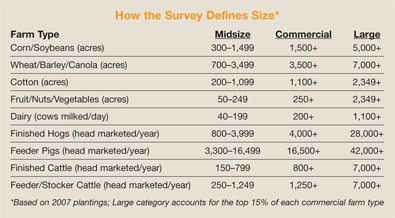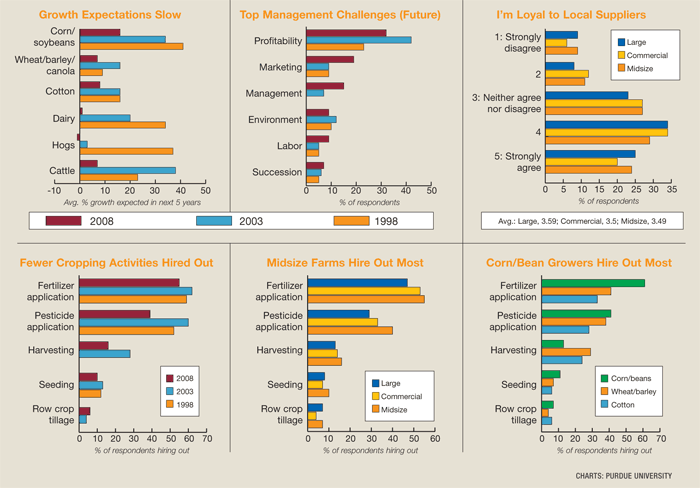 To contact Greg Vincent, e-mail [email protected].
---

Top Producer, December 2008