Charles Johnson
, Farm Journal National Editor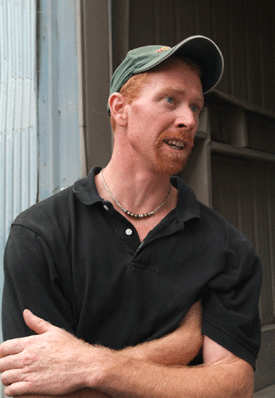 For a year, Michael Swanson has worked for a Ukrainian grain and livestock farm, feed mill and elevator and witnessed substantial changes in the ag industry.         Photo by the author
Ukrainians see their agricultural industry flexing its muscles, evolving out of the old inefficient collective farms left when the Soviet system collapsed in 1991. There is apparent potential for modern technology to turn it into a grain and oilseeds powerhouse, but how the country will achieve that status remains the big question.
A group of U.S. farmers on a tour organized by Farm Journal sister publication Top Producer recently visited farms from north to south along Ukraine's midsection.
They rode the potholed rural roads to see mechanized agriculture, as well as farmers hand-raking hay piles and driving horse-drawn carts. They met Ukrainian farmers with pioneering spirits and adventurous foreigners, including Americans, who siphon big money into huge farms cobbled together from the old collectives. The group was wowed by 1,000-hectare (2,471 acre) fields worked by high-tech machines.
At the same time, they witnessed poor stands and easily correctable agronomic mistakes. Ingrained problems in the culture troubled the travelers, too, with farms spending big money on security and dealing with myriad employee difficulties.
"There's a ton of opportunity in this country," says Michael Swanson, production manager of Kyiv-Atlantic Ukraine, a grain and livestock farm, feed mill and elevator in Myronivka.
Swanson, who ran a family dairy in Ellsworth, Wis., has worked for the past year for this operation, co-owned by David Sweere of Wayzata, Minn., and a group of Danes. In that short period of time, he's witnessed a considerable amount of change.
Currently, Ukrainian land cannot be sold. Large farms are assembled with hundreds, even thousands, of landlords who were given small acreages from the old collective farms in a 1999 reform. These farm operations generally sign long-term leases with the collective farm members. However, with widespread corruption in the government, there's no assurance the justice system will honor leases in case of a dispute.
"There are three large groups I know of moving in this area. One farms 250,000 hectares and plans to have a million hectares in three years. The others plan to have 500,000 hectares each in two years. Ag land can't be sold here, but the cooperative farms are selling out. The big guys are picking them off fast. They're financing them and bringing in management teams," Swanson says.
Each year, the Ukrainian parliament considers laws allowing land to be sold or used as collateral. And each year, nothing gets accomplished, says Alexander Tarassevych, an agriculture specialist working for the USDA Foreign Agriculture Service at the U.S. embassy in Kyiv.
"The big corporate farms are emerging here and there. The average is 80,000 hectares," he says. "They're coming in as big money from the U.S. and Europe. They're investing a lot of money and know how to work the land and purchase machinery."
Wade Hubers, a North Carolinian on the Top Producer trip, says what he saw in Ukraine reminds him of Brazil when he visited that emerging agricultural power in 1989.
"The old trucks, the way they handle the grain. It's so similar, it's eerie," Hubers says. "They can get money easy enough if they get their political system solved. Just like that, they could get up to speed quicker than we can imagine."
Only time will tell whether western-style efficiency equates to success.
---