By 
Sara Muri
, AgWeb Business & Crops Online Editor  
Oprah Winfrey's show traveled to an Illinois hog farm and California egg operation, among other farming operations, Tuesday to bring nationwide attention to livestock production methods in the U.S.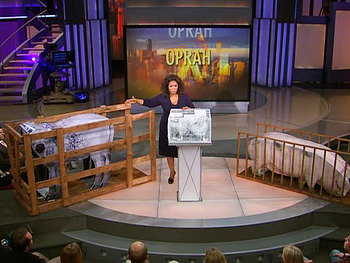 Oprah Winfrey shows life-size models of the standard crates and cages used for veal calves, chickens and hogs.
Photo Source:
www.Oprah.com
Her Oct. 14 episode, centered on the possible passage of Proposition 2, the Standards for Confining Farm Animals, which calls for chickens, swine and calves to be able to turn around freely, lie down, stand up, and fully extend their limbs in their cages or crates. 
During the episode, Winfrey showed life-size models of the standard size of cages and crates for veal calves, chickens and hogs. Following, Lisa Ling, a special reporter for the show, visited several farms including free-range and confined-animal operations.
The Economics of More Space
Wayne Pacelle, Chief Executive Officer of the
Humane Society of the United States
, said Proposition 2 would dramatically improve the way animals are raised. "These animals have the god-given right to move," he said. "We need to balance animal welfare with economics. We put a man on the moon. Why can't we allow animals to move?"
Ryan Armstrong, a third-generation egg farmer from Armstrong, Calif., said his egg operation would go out of business if he was faced to update his operation under Proposition 2's guidelines.
"We make our chickens as comfortable as we can and still provide the consumer with a safe and economical egg," he says.
Another farmer, hog producer Matt Kellogg from Yorkville Ill., said he would also shut down his hog operation, if Illinois would pass a law similar to Proposition 2 in California. His operation, he said, uses stalls to confine his hogs for their protection.
"I wouldn't farm that way because I don't believe its right for the animals," he says. He says due to the aggressive nature of hogs, they would hurt themselves and fight over food.
"We are not just out there to make money," he says. "We want to take care of the animals. I feel lucky we can take care of them the way we can now."
Showing All Sides
Winfrey's guests varied from those greatly supporting the passage of Proposition 2, to those strongly opposing. She said she's been completely oblivious to the country's food system.
"Now that you've heard both sides of the argument," Oprah said, "you can start making conscious choices about the food you eat. She noted California voters can make their choice on Proposition 2 in November. "The rest of us can vote at the grocery story with the food we buy for our tables."
For More Information
The New York Times, July 31, 2008 
---