Readers draw lines for acreage battle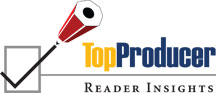 Early indications for the 2009 crop year show rising costs and sliding prices limiting corn acres and soybeans gaining. Cotton is again taking a major hit in a survey of Top Producer readers. Of course, final decisions depend on where prices head.
The survey respondents expect to increase 2009 soybean acres about 2.5% from 2008 levels, and more than 10% above 2007 plantings. Corn will be up less than 1% over this year's 87 million acres, they say.
Regardless how the corn and bean trade-off shakes out, the nation's cotton crop appears to continue fighting a losing battle for acreage. Respon-dents report they will plant more than 20% fewer acres next year.
Seven dollars seems to be the magic number for corn. Growers say corn acres will begin to mount a comeback if prices reach $6.51/bu. and will begin to gain significant ground if prices exceed $7/bu. Fourteen dollars is the mark for soybeans to gain the advantage in the battle.
Cotton acres will not stage a significant comeback unless prices reach 91¢/lb. or more, according to our respondents. 
—Greg Vincent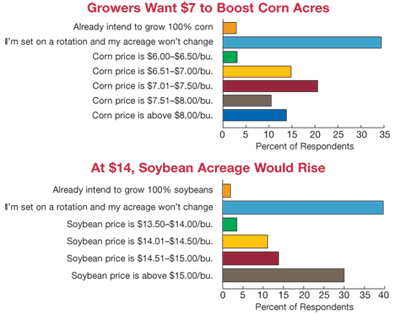 ---
Prices in perspective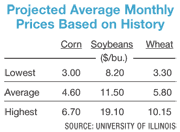 There's no denying now we are in a new era in agriculture. "It is likely a permanent shift has occurred in price levels for corn, soybeans and wheat," says Darrel Good, University of Illinois Extension economist. "The main point of the debate now is the size of the shift."
Good, with colleague Scott Irwin, set out to determine the probable magnitude and variance in prices. They found the average price of corn increased 89% and wheat 79% from post–WWII to post-1972. Soybeans rose the most, 134%, as it became a major crop.
The most likely average prices they predict, based on historic prices, ranges and ratios between crops, appear in the table below.
For the full report, see the link at
www.ToProducer.com
,
Web Extra
.
—Linda H. Smith



---
Ethanol election risk
Ethanol stocks are pressured by general commodity weakness and fears of a Republican victory in the presidential contest, says Ann Duignan of J.P. Morgan. "Obama has a target of 60 billion gallons per year of advanced biofuels, including cellulosic ethanol, by 2030. McCain is less specific and is opposed to ethanol subsidies and tariffs." On the other hand, she notes, a McCain presidency likely would be tempered by a Democratic Congress.
---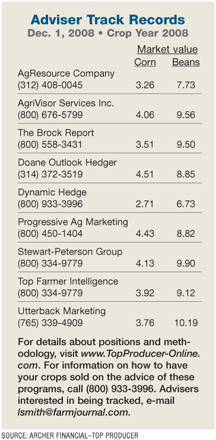 Don't forget new crop


Things have changed, cautions Bob Utterback of Utterback Marketing in West Lafayette, Ind. "Overall, the outside markets have turned direction from a strong tail wind to a very aggressive headwind," he says, citing the value of the dollar and the historic financial crisis that is unfolding.
"Each commodity is going to have to have more aggressive supply corrections or increased demand potential to cause significant upside price advances," he believes. "The implication: We could see a lot of smoke (trading volatility) but not much progress (flat price rally).
"It's not going to be an easy or pretty year," Utterback says. "Don't focus on old-crop pricing when downside risk exists in new-crop markets, where input costs are even higher."
—Linda H. Smith
---

One-liners
"Debt has become a part of who we are." Dave Ramsey, radio host
"Demand rationing occurred at $6 corn." Jerry Gulke, Strategic Marketing Services
"At 153.5 million metric tons, China's Corn Crop will be 1% over last year." Cary Sifferath, U.S. Grains Council director in China
"For every 100 commercial and farmer customers I have now, I expect to have only 50 in one year and 20 in five years." Jim Bower, Bower Trading, Lafayette, Ind.
---
Top Producer, October 2008