On tenterhooks
We won't truly know the size of this year's crop until the combines roll! But you can get some idea by listening to exclusive audio commentary at
www.ToProducer.com
.
Mark your calendar:
Sept. 10 Pre-report
Sept. 12 Post USDA report
And for a feel of where demand is headed, tune in for:
Sept. 19 Cattle on Feed
Sept. 26 Hogs and Pigs
---
Power up risk management
Higher costs for 2009 demand better risk management, says Owen Thompson, credit team leader for the grain group at AgStar Financial Services in Mankato, Minn. "We recommend farmers carry at least 75%-level crop insurance and couple it with a written marketing plan."
Be cautious about how far out you lock in rents and input costs, he adds. "In another 12 to 24 months, we could see profit levels back to where they were two to three years ago," he says. "I wouldn't want to lock in high cash rents for more than a year, and wouldn't recommend locking in inputs for any more land than what you know you can control.
"Be careful where you prepay for inputs," he adds. "Find out their financial condition and how solvent they are."
The good news is that farmers who grow even an average crop in 2008 should be in a strong financial position in 2009, says Thompson. "If we can harvest good crops here in south-central Minnesota, we're going to be at profit levels we've never experienced before," he says. "Our growers should have above-average working capital next year."
—John Russnogle


---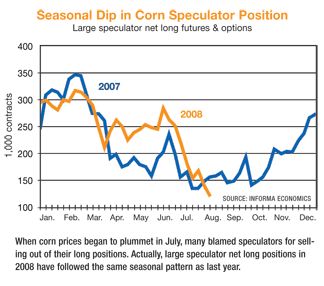 ---
Fertilizer cost could double
Commodities, including inputs used in making fertilizer, softened a little this summer, but they may resume their uptrend. "It's all about food demand," says W. P. "Tip" O'Neill, president of International Raw Materials (IRM) in Philadel-phia. Fertilizer prices could double in '09.
"There are 1.1 billion people in India and more than 1.3 billion in China moving up the protein ladder," adds Brooke McMullin, vice president of IRM. "It takes 3 lb. of grain to make 1 lb. of chicken and 10 lb. of grain for a pound of beef, so we will see tremendous growth in grain demand. So fertilizer demand will remain strong."
---
Acres scarce in Brazil
An increase in Brazilian soybean acreage of about 2.5% was expected, reports Éder Silveira, market analyst with Weisul Agricola, with five locations in Brazil. "But that was based on research done when Chicago futures were hitting $15.50/bu. Acreage is more likely to be up 2%, and that doesn't mean higher production.
"For corn, 4% more area was expected (including both first crop and double-cropped)," says Silveira. "But as local prices are dropping and fertilizer is getting more expensive—and we now see crude futures up 4%—I would not be surprised to hear area is dropping in some regions, as major farms have not yet concluded input purchases."
Government crop intentions research indicated cotton would decrease around 7%, and prices are worst now, he adds.
Credit problems also will limit growth, he says.
---
Not seeing demand destruction in fuels
We are not seeing demand destruction for petroleum fuels, as some believe, says Kip Butts of Informa Economics in Memphis. "Demand is still increasing—only at a slower rate." He points out that both non-OPEC production and world consumption will be higher next year than this year (see top chart). However, the gap may not be as extreme for the year as a whole in 2009.
This year saw almost no change in production outside OPEC, yet consumption grew about 750,000 barrels/day, he says. Next year, production is expected to rise about 800,000 and consumption 1 million barrels/day. "We should note that non-OPEC production fell far short of expectations this year, cashing some suspicion on next year's forecast," Butts says.
In fact, we have been a net exporter of some fuel this year, he adds, citing strong Chinese demand in preparation for the Olympics. The bottom chart shows net imports of distillate fuel oil (mainly diesel) turned negative late last year. This is likely to moderate as the Chinese economy enters a post-Olympics period of slower growth.
—Linda H. Smith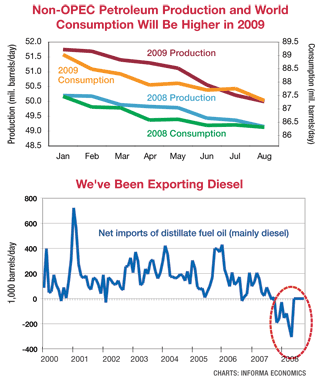 ---
What the crop condition implies
The black arrows on the chart below indicate that if good/excellent corn crop ratings are about 58% on Monday, Sept. 22, 2008, the final yield should be about 98% of the long-term trend, or 148.5 bu./acre. The largest declines in good/excellent ratings from Week 34 to Week 39 have been 6 points in 1993, 11 points in 1995, and 4 points in 2000. Continued dryness, an early frost, or both may well cause a 4- to 11-point decline yet in 2008. The blue arrows indicate the rating will have to be above 66% good/excellent on Sept. 22 to project a 100% trend yield in January. Any kind of early frost or continued dryness in the Midwest most certainly will not enable the ratings to be that high on Sept. 22.
—Bill Fordham, C&S Grain Market Consulting, Ohio, Ill.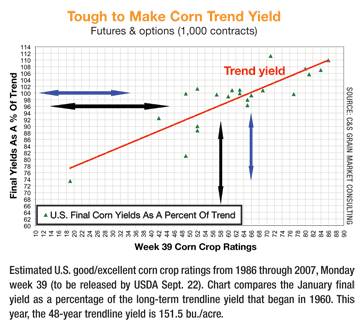 ---
Cooler temps ahead
If you haven't heard much about our favorite weather makers—El Niño and La Niña—it's because the "ENSO" that defines them has been neutral since spring. The cool water episode that defined a La Niña last winter has faded.
"The persistence of ridging in the West could set the stage for a colder winter in the northern Plains and Midwest," says Rick Shields, meteorologist for Informa Economics in Memphis. "It could result in an active storm pattern into the Pacific Northwest.
"We have the early beginnings of the mechanics for cold in the center of the country," he adds.September temperatures could be below normal in the lower half of Minnesota, all of Iowa and Illinois, and west into Nebraska, he believes. October will be cool in Minnesota, Wisconsin, Michigan and northern Illinois and Indiana.
Furthermore, in October, harvest could face wet weather from Texas up through Nebraska, and into Missouri and Tennessee. In November, the wetness spreads from Minnesota across the entire east and down into Virginia, Shields says.
—Linda H. Smith


---
Ocean freight relief?
Because we import a lot of fertilizer, ocean freight rates have a big influence on prices. "Ocean freights last year cost U.S. fertilizer importers about $30,000 to $40,000/day; this spring they went as high as $94,000/day," says Brooke McMullin, vice president of International Raw Materials (IRM) in Philadelphia. That's almost $1/ton/day added to the cost of incoming fertilizer. "Add to that a 50% trucking fuel surcharge once the product is in the country, adds ITM's Dan Peeno, based in Spokane.
Ocean rates have fallen rather dramatically since hitting records last spring, says Ken Eriksen, senior vice president, Informa Economics in Memphis. "Perhaps rates have found a bottom and will make another upward run. But the opportunity for vessel owners to enjoy higher charges may be short-lived as the looming large order book (3,200 vessels that will come on stream between now and 2013) for dry bulk vessels will likely weigh on rates. Today's fleet in operation exceeds 6,500. Even considering likely vessel retirements in the next few years, the fleet is destined to increase substantially." For charts of freight rates, see
www.ToProducer.com Web Extra
.
—Linda H. Smith


---
One-Liners
"It's easy to make a buck. It's a lot tougher to make a difference."
Tom Brokaw
"Given limited additional land, strong fertilizer use will be necessary." 
Luc Maene, International Fertilizer Industry Association
"It is a very serious threat that a lot of major exporters that we count on today for international oil supply are no longer going to be net exporters anymore in 5 to 10 years."
Amy Myers Jaffe, an oil analyst at Rice University, quoted in the New York Times

"Low private credit is limiting input purchases for medium and big growers."
Éder Silveira, Brazilian market analyst
"To maximize fuel, approach stops like there's a baby in the back seAt and accelerate like there's an egg under your foot."
Bruce Smith


---
Top Producer, September 2008