Buy put options

Doing nothing may be the right market strategy if prices don't fall, but with input costs at record levels, can you afford the risk of lower prices? "With put options, you know the cost up front—there is no risk of margin calls and no delivery requirement," urges Carl German, University of Delaware Extension economist.
Need some help getting started? Sign up for Top Producer's free Webinar with German, Aug. 14, at noon Central time. Register now at
www.ToProducer.com
. 
---
CRP wildcard for inputs

Should expectations be correct that acreage is allowed to come out of the Conservation Reserve Program, it could add several million acres to input demand, points out Don Frahm of Informa Economics in Memphis, Tenn. This could mean even higher costs of products like fertilizer.
"We typically crop 300 million acres. If 3 million to 6 million come back into production, that's a potential 1% to 2% increase in needed inputs," he says. There is some possibility that the productivity of the land actually may have improved while out of cropping, and inputs needed also will depend on what crops are planted, Frahm adds.
"One thing we know is that today's equipment and chemicals make it a lot easier to bring land back into production than 25 years ago, when the CRP was started," Frahm says.
"If you believe costs will rise sharply, it makes sense to buy now rather than wait," he adds.
—Linda H. Smith


---

Farm Bill impacts minor
Compared with a simple extension of past farm programs, most of the new farm bill's provisions will have only modest impacts on commodity markets, according to the Food and Agricultural Policy Institute (FAPRI) at the University of Missouri. The new farm bill requires:
• Higher target prices and loan rates for wheat, soybeans, barley, oats and minor oilseeds. No impact is expected because prices are expected to stay above loan and target levels.
• A lower target price for Upland cottonmeans lower countercyclical payments.
• The base acreage eligible for direct payments is reduced from the current 85% to 83.3% for 2009 through 2011, marginally reducing direct payments but having little effect on commodity markets.
• No advance payments of direct and countercylical payments, beginning in 2012.
For additional analysis of the farm bill's effects from FAPRI, see
www.ToProducer.com
Web Extra.
—Linda H. Smith

---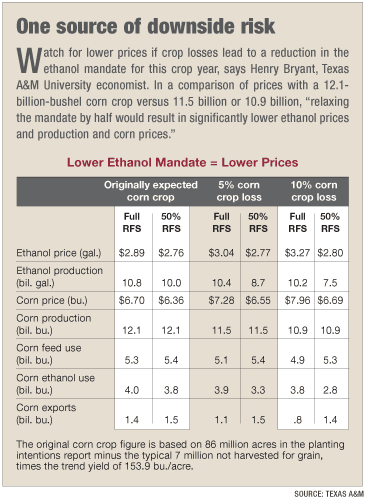 ---

Consider a re-ownership move
By no means will a bull call spread light up the world. But if you don't think this market is done rising, it is a way to benefit from further rallies on bushels you've already priced, says Nick Mueller of Stewart-Peterson. For example, "you might cash contract December corn near $7.80, buy an $8 call for 60¢ and sell a $10 call for 20¢. So you'd have your corn sold at $7.80 minus 40¢ net cost of re-ownership, giving you a $7.40 minimum," he says.
"At the same time, should prices rise over your $8 call strike price, you can add as much as $1.40 to your cash sale [up to the $10 sold call]. You would have have a $9.60 ceiling [$10 strike minus 40¢ net premium]. And you wouldn't have to worry about these positions until November or prices over $10."
—Linda H. Smith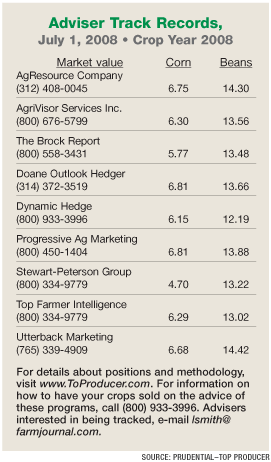 ---

Basis opportunities?


Although basis in many areas has been poor, improvements may occur in areas where flooding and poor crops cause dislocations, says Joe Brocklesby, manager of grain origination for CGB. "Basis will reflect demand for grain and the market will pay to get it where it is needed. The cost of trucking is up, so the market may have to pay rather aggressively to direct bushels to the demand centers. That means opportunities for farmers who stay on top of offers and can deliver into areas of need." 
---
Crude worries


Is crude oil in its demand-destruction phase? asks Bob Utterback, Utterback Marketing. "We know in agriculture that high prices cure high prices. In fact, USDA's June Grain Stocks report showed some corn use rationing is already occurring. Unfortunately, as the country that uses a quarter of the world's petroleum, the U.S. may be the place oil rationing has to take place. Should we see the economy get worse, demand for both fuel and food could be affected.
"Grain producers should use current incomes to help pay off debt rather than increase debt to avoid taxes," he advises. "Second, focus on locking in profit margins for 2009 and 2010."
---
"Given limited additional land, strong fertilizer use will be necessary."
Luc Maene, International Fertilizer Industry Association
"This current [price] spiral is dramatically different. It's a demand-expansion commodity spiral and what we have is the supply function chasing demand curves."
Bruce Scherr, CEO, Informa Economics
"China's government pays out $26 billion in fertilizer subsidies—equal to its national defense budget."
Andrew Donkin, International Raw Materials Australia
Top Producer, Summer 2008