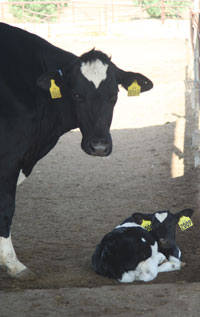 Although Proposition 2 targets cage-egg production, California's dairy industry worries that it could be next.
California farm interests are waging war against a legislative proposal they say would undermine animal welfare and food safety in the Golden State.
Proposition 2, formally known as the Standards for Confining Farm Animals initiative, is opposed by dozens of groups, including the American Veterinary Medical Association (AVMA), Western United Dairymen (WUD), the California Farm Bureau Federation and the California Grocers Association.
The proposition would expand California's Health and Safety Code to prohibit the confinement "for the majority of any day" of certain farm animals in a manner that does not allow them to turn around freely, lie down, stand up and fully extend their limbs. The measure is aimed at cage-egg production and sow and veal calf housing systems, and will go before California voters on Nov. 4.
A coalition of California
agriculture organizations has called on Gov. Arnold Schwarzenegger to join with them in opposing Proposition 2. A letter signed by WUD and 21 other organizations says: "Proposition 2 is not about the treatment of animals—it's about mandating new housing standards for egg-laying hens. [It] would ban modern housing systems, threatening food safety and public health."
California ranks fifth in egg production, but its veal and swine production is limited. Still, dairy interests believe Proposition 2, which is backed by the Humane Society of the United States (HSUS), would lead to similar initiatives against their industry.
"This proposition is not just about egg-laying hens," says WUD President Ray Souza. "If approved, this measure will open the door to similar initiatives by anti-agriculture groups. It should be clear to everyone in agriculture that activists are going to push forward their emotion-based campaign and do their best to put us out of business. Now is the time for agriculture to get involved in defeating this misleading and costly measure."
At a Sept. 3 forum on Proposition 2 in Modesto, Calif., HSUS president and CEO Wayne Pacelle made it clear that a victory for the initiative would encourage his group to seek similar ballot measures in other states. "Pacelle said that HSUS feels there is strong public sentiment for these types of animal welfare laws," reports moderator Mark Looker, "and that victory in California could lead to similar initiatives, not just regarding egg layers, but other food animals throughout the U.S."
David McCrystle, AVMA executive board chair, says Proposition 2 has an "admirable goal" but ignores "critical aspects of animal welfare." Changing housing standards without considering how that may affect other aspects of animal welfare, such as protection from disease and injury, "will not be in the animals' or society's best interest," he adds.
If approved by the state's voters, the statute would go into effect Jan. 1, 2015.