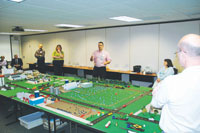 Patrick Webb, director of swine health programs for the National Pork Board, conducts a mock tabletop FMD outbreak at USDA's APHIS headquarters.
USDA's Animal and Plant Health Inspection Service (APHIS) and industry groups conducted a training exercise earlier this year to demonstrate the difficulty of containing a foot-and-mouth disease (FMD) outbreak.
 
"FMD is one of the most difficult diseases to control because it has a short incubation period and can be spread over vast distances quickly," says Jose Diez, APHIS associate deputy administrator for emergency management and diagnostics. "The virus is excreted in large amounts, but only small amounts of virus are needed to get the disease."

The cost of an outbreak could easily run into the billions of dollars and would be felt by producers, marketers, processors and consumers, Diez says. 
 
The tabletop exercise, conducted at APHIS' Emergency Operations Center in Riverdale, Md., quickly showed how an FMD outbreak could overwhelm a small, 500-person town in the Midwest. The exercise demonstrated the type of logistics that would be needed to control even a small outbreak, and how quickly it could spread to other states if the disease was not detected and contained within 48 hours. 
 
While some might scoff at the notion of such an incident, the 2001 FMD outbreak in the United Kingdom, for example, cost an estimated $17.4 billion. And even the small outbreak that occurred there last year cost the British $20 million per week.
 
A simulation study at the University of California-Davis estimated that the cost of an outbreak in California's three large dairy counties of Fresno, Kings and Tulare could range from $7 billion to $13.5 billion. 

"Sometimes APHIS gets criticized for overreacting," Diez says. But the potential for catastrophic losses to livestock and the economy dictates that any practices or livestock movement that would spread the disease in an outbreak will be prohibited, he says.
Research done by the National Cattlemen's Beef Association (NCBA) shows most consumers are clueless when it comes to FMD, says JoDee George, director of issues management for NCBA.
 
Roughly 70% of consumers surveyed in 2006 said they believe humans can contract FMD and that they can do so by eating meat or drinking milk, neither of which is true.
 
Some 40% of consumers confuse FMD with BSE (bovine spongiform encephalopathy, or mad cow disease), with more than half of those surveyed believing that several cases of FMD have been found in the United States and that it was caused by bacteria in feed. Again, neither is true.
 
The research also shows that consumers are concerned only about how an outbreak would affect them, their families and their pets, and what it would do to the price of food, George says. "They really don't care about what an outbreak would do to producers, who may be losing their herds."
 
NCBA also tested media messages with consumers to determine which would have the most impact—-and were the most believable. The results showed that messages that are definitive and can be backed by facts are the most effective:
"FMD is not a threat to people."
"FMD poses no human health threat."
"FMD does not affect meat or milk."
Messages that say FMD is highly contagious, that herds need to be quarantined and that such efforts were taken to protect animals or producers' livelihoods had little resonance, George says.
The research also showed that local government officials had more credibility than federal agencies. Consumers' local veterinarians, many of whom are small-animal vets, have the most credibility because they are the only direct contact most consumers have with animal health issues. 
The APHIS exercise simulated a 2,300-head swine operation surrounded by beef and dairy operations near the mythical town of Hopeless, Iowa.
 
Once an outbreak is detected, APHIS and Iowa's state veterinarian would move quickly to contain the area. Theoretically, they would like to cordon off a 6.2-mile circle around the farm known as the infected zone. 

But because Iowa, like much of the country, is laid out in square-mile grids, containing that 6.2-mile radius would require establishing roadblocks on 35 intersections. Most rural Iowa counties have only five or six deputies available at any one time. So simply containing the farm would mean reducing the size of the original infected zone, calling in aid from other counties or using other county workers to block the roads.
 
Once that occurs, veterinarians would be dispatched to neighboring farms to look for signs of FMD. If signs are found, the infected zone would have to be enlarged to encompass those farms.
 
Without premise identification through the National Animal Identification System, it could take veterinarians several days to locate all farms within the infection zone. And every day lost means that additional herds could be contaminated. 

The town of Hopeless also has an auction market 2 miles from the site of the infection. The market had conducted a sale two days prior to the detection of FMD, and livestock sold at the sale were shipped out to feeders in several states. Those shipments could potentially spread the outbreak nationwide.
 
Meanwhile, back at the farm, teams were being assembled to euthanize the hogs. First, burial pits had to be sited and dug. Also, humane but rapid methods of euthanasia for large groups of animals had to be found. 
 
Simply turning off the barns' pit fans and dropping the side curtains would quickly euthanize the animals. But dragging 400-lb. sows out of farrowing crates would prove to be too labor-intensive. So it was decided that large dump trucks covered with tarps could be used to gas the animals with carbon dioxide. But even that was problematic: finding enough dump trucks in the rural county to do the job was an issue, since some of the trucks were already involved in digging the burial pits. 
 
A neighboring cow-calf operation was also found infected and also required depopulation. That simply added to the logistical problems of putting down some 60 cows and burying them.

On top of this, the national news media arrived on the scene after the Secretary of Agriculture announced that FMD had been detected. Feeding the media's insatiable appetite for new information while maintaining a containment zone, testing other herds and euthanizing infected herds added to the chaos. 
 
The training exercise demonstrated that any FMD outbreak will stress local resources, spread quickly and could potentially cripple the U.S. livestock industry.

Thank goodness the exercise was all fun and games. A real outbreak will be anything but.
EMERGENCY OPS
The APHIS Emergency Operations Center (AEOC) is an 8,800- square-foot high-tech system on the fifth floor of APHIS headquarters in Riverdale, Md., just outside of Washington, D.C.
The Center serves as the Secretary of Agriculture's primary point of coordination during agricultural health emergencies. It essentially allows APHIS personnel to communicate with their field and mobile communications centers across the country and link into the nation's security system should an animal health crisis stem from a terrorist attack.
It features four 65" screens, 21 high-power computerized workstations and global-positioning time-zone clock displays. AEOC is designed to support 40 APHIS personnel 24/7 during a national animal health crisis.
AEOC has its own independent phone system, a high-security room for classified communications and reserve power that could keep the Center operating for 48 hours on its own fuel supply.
---
Bonus content:
You are reading an extended version of this article that appeared in the September issue of Dairy Today.