Damage Control at USDA for Ethanol "Aid"
Every word that is uttered by a U.S. Cabinet official can have an impact. USDA Secretary Ed Schafer again learned that lesson in October. After being asked by reporters about ethanol producers in financial difficulty due to high corn prices, Schafer noted that USDA could make "aid" available to U.S. ethanol producers through a government program. Those comments were made at the sidelines of the World Food Prize ceremonies in Des Moines, Iowa, on a Friday.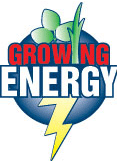 By the following Monday, a firestorm of criticism was brewing. Livestock, dairy and poultry interests were outraged that USDA was considering aid to, or in their view "bailing out," the U.S. ethanol industry, which was facing the same high corn costs they were. Many complained ethanol producers were a factor in the high prices.

The American Meat Institute, National Cattlemen's Beef Association, National Chicken Council, National Meat Association, National Milk Producers Federation, National Pork Producers Council, National Turkey Federation and United Egg Producers penned a terse letter to Schafer, noting, "We in animal agriculture are particularly concerned that you would consider adding one more level of support for the corn-based ethanol industry." They further called on Schafer to "rethink your intention of selectively lending taxpayer funds to private facilities that are having difficulty with the price of commodities."

They reminded Schafer that USDA told animal agriculture to "ride out" the lofty commodity price situation that slashed producers' profit margins this year. "It is not clear to us why now USDA would be so inclined to provide assistance to one particular segment of the industry in dealing with a problem that affects us all," they said.

Livestock folks weren't alone, though. "We think each company needs to be responsible for the risks it takes in competing in commodity markets with other buyers and sellers," wrote the National Grain and Feed Association. "We urge USDA and this administration to reconsider this ill-conceived idea."

Aid source. The USDA program in question is the Business and Industry Loan Guarantee Program (B&I). It's run by USDA's Rural Development Agency (RDA) and guarantees loans made by private banks to rural businesses and individuals. Its goal: improve, develop or finance business, industry and employment and improve the economic and environmental climate in rural communities.

But the guarantees are not for 100% of the loan. Under the B&I program, RDA can guarantee 60% of the loan a bank makes for $10 million to the $25 million limit. For loans of $5 million to $10 million, the guarantee is 70%. Loans of $5 million or less are guaranteed up to 80%.

The program actually had some connections to the forerunner of today's corn-based ethanol—gasohol. USDA spokesman Keith Williams confirms there were defaults under the program back then.

"They were for the old gasohol technology—without the support or development that ethanol or cellulosic [has today]," Williams says. "[It was a] different directive by Congress 20 to 30 years ago when the technology and market was not developed. There have been no defaults since that time."

He also stresses the program "does not guarantee marginal or substandard loans, nor provide relief to lenders that have such loans."

In order to further quell the uproar, in late October Schafer met with CEOs of livestock, dairy and poultry groups. In that session at USDA's Washington, D.C., headquarters, Schafer admitted he didn't intend for his comments to be taken to mean there was a bailout plan for ethanol producers in the works.

"We assured them that this was a long-standing program they could use to help finance rural America. Some of those may be ethanol facilities," Schafer says, and that it was not a bailout effort.
While both sides agreed to "move on" from this incident, it still leaves deep scars that will take time to heal. It also underscores the heavy bet that the U.S. government (both the Bush administration and Congress) has put on corn-based ethanol as the stepping-stone to the next generation of ethanol produced from nonfeed grain sources.

 
---
Unprecedented Correction by USDA

Commodity markets were caught off-guard by the unprecedented correction issued by USDA's National Agricultural Statistics Service (NASS) to their October Crop Production Report. On Oct. 28, NASS issued a corrected report that provided new production figures on U.S. corn, soybean, sorghum and other crops.

The correction prompted USDA's World Agricultural Outlook Board (WAOB) to correct the U.S. supply and demand tables for corn, soybeans and feed grains. Joe Prusacki, director of the NASS statistics division, says "this is the first time NASS has ever reissued a crop production report from a lockup situation."

When the October Crop Production Report was issued on the 10th, many market participants were mystified when NASS increased soybean harvested acres by 2.2 million and reduced corn harvested acres by only 93,000 acres.

A red flag. Prusacki explains that the issue arose during an Oct. 21 teleconference between NASS and Farm Service Agency (FSA) staffers. "They inquired as to why it seemed like we weren't close to the [Form] 578 data in the October Crop Production Report," he details. "We said, 'We are [close to that data] because this is what we had.' Well, the FSA staff persisted and said, 'No, that isn't what we have.'

"This obviously was a very disconcerting and concerning situation," Prusacki admits. What happened was that FSA maintains acreage data (collected from the 578 Form acreage certification filings from producers) in two locations—their mainframe computer and on another system called data mart.

While FSA is not certain yet how it happened, the 578 data did not get properly transferred from the FSA mainframe to the data mart system. A glitch in a computer script is suspected as the culprit.

NASS statisticians compiling the October Crop Production Report in lockup saw that their own survey data did not back up the increase in soybean acres that was signaled by the FSA data, Prusacki notes. "We have been using this data for the October report since 2003 without any problem," he adds.

"Given the late plantings we had, late reporting of acreage and the strong soybean prices that were seen about the time the acreage reports were made," Prusacki says, "we were able to rationalize what was shown in the FSA data."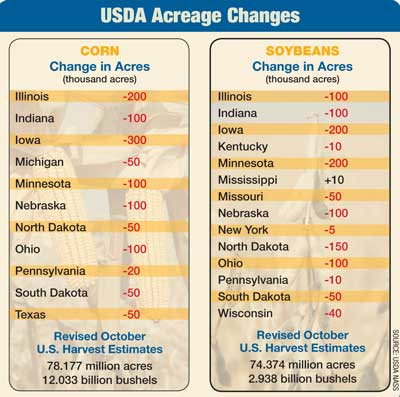 The Band-Aid. But once they discovered the data problem, Prusacki said they made the only decision they could—to come out with a corrected October Crop Production Report. "It was a lose, lose situation," he relates. "If we put out a corrected report now, we'd be criticized. But if we waited until the November Crop Production Report, we'd be criticized."

As for future safeguards, Prusacki says they'll likely still run their query on the data mart information "but then have FSA run a query off their mainframe system as well."

Also, the changes in the size of the U.S. corn, soybean and sorghum crops forced WAOB to release updated U.S. supply and demand tables for the three crops. Gerry Bange, chairman of the board, says they only released the U.S. and not global supply and demand tables because the changes from the NASS correction didn't signal that adjustments had to be made to global data.
"The increase in corn carryover was 167 million bushels, so that really didn't warrant changing the global tables," he notes.

In regard to the initial October Crop Production Report data, Bange explains that the WAOB was puzzled as to why U.S. soybean acreage went up that much and why corn acreage only changed a little, as shown in the NASS figures. "But," he stresses, "it is not our practice to question NASS data. It's their data. We have a separation of responsibilities and that helps keep our objectivity in the data.

"But we have no reason to anticipate any further changes related to this," Bange concludes. "NASS has located where the error appears to be and is taking precautions."

 
---