Perhaps farmers need to add antacids to their input budget—the markets' wild swings are enough to give anyone heartburn! Corn prices fell 60% in the five weeks ahead of the August crop report, only to rally 60¢ the week of Aug. 11. That triggered buy signals on some technical models—on the heels of a crop report forecasting the second-largest crop in history.
USDA penciled in a 300-million-bushel boost in carry-out over a month earlier, pegging end stocks at a more comfortable 1.1 billion. "However, that is still below the 1.6 billion USDA reported for the 2007 crop and 2006's 1.3 billion," points out Bill Biedermann of Allendale, Inc., in McHenry, Ill.
He's skeptical we'll see that much in bins next summer. "We fed 6 billion bushels of corn in the crop year just ended. USDA projects only 5.3 billion this year. That is impossible," he says. "Poultry production is increasing; cattle are stable. Hog numbers were supposed to drop 8%; they are only down 3% to 4% maximum."
At $8 corn, we could see a big drop, he agrees. "But at $5.50 minus recent basis, feed demand might be down 4% at most. We could feed 5.8 billion, meaning 600 million bushels could come off end stocks' bottom line."
USDA also trimmed exports from 2.45 billion for the 2007 crop year to 2 billion for this year. "U.S. exports have been 2.1 billion, 2.1 billion and 2.4 billion over the past few years," Biedermann points out. During those years, China exported almost 200 million bushels a year. Now their stocks are depleted. "They will not export any corn except to Taiwan," Biedermann says. "Next year, they will need to increase production 3% to 5% to avoid importing corn. Brazil has boosted production, but not enough to offset a loss of Chinese exports in the world market. So how can the U.S. export less corn?"
Ethanol use will be up, according to USDA.
Bottom line, Biedermann believes corn ending stocks will be whittled down to 800 million. "A futures price range between $5 and $6.50 is likely neutral. Without early CRP release, the market will have to stay high enough to convince farmers to plant corn next year."
Historically, the market has never cared about farmers' cost of production, but farmers could fall back on the government program, he says. "Now it takes $800/acre to break even. The only incentive is the market."
Soybean demand in question

Soybeans represent a more global market, with Argentina and Brazil producing 113.5 million metric tons in 2008–09 (up from 107.5 million for 2007–08) and the U.S. 80.9 million vs. 70.4 million tons last year. Despite larger production, USDA pegs world ending stocks virtually unchanged thanks to strong use.
We'll face more competition in export markets, though, says Chip Flory, editor of Pro Farmer. Not only is the South American crop larger, but freight rates are dropping, making South America more competitive in Asian markets than it has been. Ocean freight fell 30% from its June highs into mid-August. Furthermore, he adds, "signs that a multiyear low has been struck in the dollar do not bode well for U.S. exports."
USDA trimmed U.S. exports modestly in its August report, yet end stocks rise only a tick—still hovering near two weeks' worth of use (see graph). "Overall, fundamentals are friendly for corn and soybean markets unless something drastic changes, especially as we head into the 2009 bid for acres," says Flory.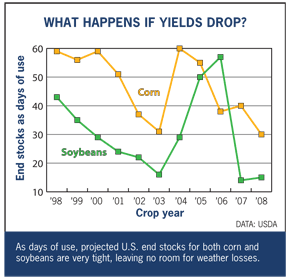 For audio commentary on the latest crop and supply/demand projections, visit
www.agweb.com
after USDA's report on Sept. 12.
---

Top Producer, September 2008