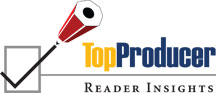 Early indications for the 2009 crop year show rising costs and sliding prices limiting corn acres and soybeans gaining. Cotton is again taking a major hit in a survey of Top Producer readers. Of course, final decisions depend on where prices head.
The survey respondents expect to increase 2009 soybean acres about 2.5% from 2008 levels, and more than 10% above 2007 plantings. Corn will be up less than 1% over this year's 87 million acres, they say.
Regardless how the corn and bean trade-off shakes out, the nation's cotton crop appears to continue fighting a losing battle for acreage. Respon-dents report they will plant more than 20% fewer acres next year.
Seven dollars seems to be the magic number for corn. Growers say corn acres will begin to mount a comeback if prices reach $6.51/bu. and will begin to gain significant ground if prices exceed $7/bu. Fourteen dollars is the mark for soybeans to gain the advantage in the battle.
Cotton acres will not stage a significant comeback unless prices reach 91¢/lb. or more, according to our respondents. 
—Greg Vincent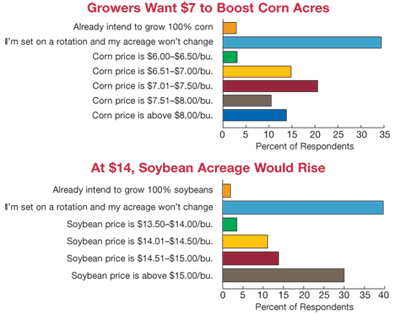 ---