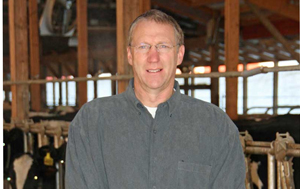 Terry Van Maanen
Rock Valley, Iowa
Cow comfort begins with properly sized sand freestalls. Once a week, we fill stalls with sand. If stalls are getting wet in the back, then we know we are not adding enough sand. Our McLanahan sand separator allows us to be generous with our sand.
One of the downsides to sand is winter use. When daytime temperatures don't get above 10°F, adding sand can turn a freestall into a frozen block of sand. The key is to add less sand and get cows to use the stalls as soon as possible. Overcrowding pens by 10% helps with that. Once the stalls have been laid in, the sand won't freeze.
The cold is seldom a problem for cows as long as they are dry and out of the wind. Summer heat, on the other hand, can decrease intakes that reduce milk production and hinder reproduction performance. Both of these results are costly.
Fans and sprinklers at the feed bunks are used to keep cows cool by using evaporation. Sprinklers come on at 72°F and typically run one minute on and 7–10 minutes off.
 
Our parlor is sized so we can milk a 70-cow group in about 45 minutes.  This keeps cows from standing too long. I have plans to place rubber mats in the parlor and the front half of the holding area. I'd also like to put rubber mats in some of my longer walkways. This should help with cow comfort.
Van Maanen's August prices

| | |
| --- | --- |
| Milk (3.5% bf, 3.0% prt) | $19.46/cwt. |
| Cull cows  | $60/cwt. |
| Springing heifers | $2,025/head |
| Alfalfa hay (milk cow quality) | $165/ton |
| Whole cottonseed   | $425/ton (Spot load) |
| Ground corn    | $197/ton |
---