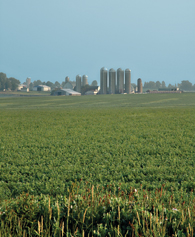 With milk prices looking to recover this year after a disas-trous 2009, now is the time for dairy producers to craft a plan for recovery and dealing with the next downcycle, says Jim Salfer of University of Minnesota Extension.

"The people who came through last year in the best shape are those who realized that high milk prices weren't going to last forever and positioned themselves to ride out the downturn," he says. Here's what you can do:

Calculate cost of production on a regular basis. Thorough record keeping—whether with a financial consultant or your own simple spreadsheet—will give you an accurate ongoing assessment of your financial situation.

Develop a plan for rebuilding equity. Start by working with your lender(s) and advisers to make sure debt is structured correctly. "If you're approaching retirement and have a relatively low debt load, you might want to take advantage of current low, variable rates for short-term loans," Salfer says. "If you're just getting started and carrying a lot of debt, it might be more advantageous to lock in fixed rates over a longer term, even though that usually means paying a premium."

As income picks up, you'll also want to pay down open accounts with lenders and suppliers and pay off any of your personal debt, including credit card balances.

Evaluate working capital needs. The University of Minnesota's Center for Farm Financial Management recommends a working capital to gross income ratio of 25%. But dairy producers with a consistent income are comfortable with lower ratios. In Minnesota from 2000 to 2008, the ratio for dairies was closer to 20%.

That needs to change as producers deal with wider fluctuations in income and expenses, Salfer says. He suggests a target for working capital of $675 to $1,000 per cow.

Keeping cash in a checking or short-term savings account is one option for building up working capital. "You also might consider using futures to lock in margins on inputs and milk prices," Salfer says.

"Paying ahead on loan principal is another option. That way, when you have a down income year, you can show your lender you have a good track record for making payments."

Reconsider capital purchase and tax management strategies. Making capital purchases in a high-income year solely to avoid a bigger tax bill is a risky strategy.

"Whenever you're making a capital purchase decision, be sure that it fits in with the long-term goals you've established," Salfer says. "Even when income is high, you generally can't go wrong stashing cash."

Monitor personal and family living expenses. It's human nature to want to increase your living standard, especially during times of high income. The problem is that it can be difficult to adjust your living standard downward when income falls.
 
Bonus content: