Swath control for planters provides results you can bank on. Planting overlap leads to wasted seed and decreased yields. Although you can't change the pattern of the planter pass, this technology allows farmers to reduce planting overlap and, in turn, increase yields.

In spring 2007, the Farm Journal Test Plots used Ag Leader Technology's Seed Command system in conjunction with Tru Count air clutches to create automatic swath control for planters. Once the corn came up, we saw the system's advantages, and when harvest was finished we counted the payback.

Automated planter shut off. "Using a GPS coverage map, the Seed Command paired with Tru Count air clutches can engage and disengage row units," says Brad Beutke, who ran the system in the plots. "We set up the system so there were two rows per control section, and the results were impressive. We know that the effect of overplanting includes increased seed costs, harvest losses and decreased yields, but this system helped us put numbers to those observations."

An Ag Leader Insight monitor simultaneously controls all of the components, which included Tru Count air clutches, a Trimble AutoPilot and a Rawson variable-rate controller. Tru Count clutches were installed on the planter to automatically engage and disengage two rows at a time. The Seed Command setup must be paired with GPS at a 5 hz or greater update rate; we used RTK GPS.

"The system allows you to select from three operation modes," Beutke explains. "We used the minimize skip setting, and it shuts off the sections after that section has completely crossed a planted area."

The other settings are: minimize overlap, which shuts off an entire section when a section's first row crosses a planted area, and custom, which allows a farmer to chose the percent overlap before a section disengages.

We recorded planting 1,366 acres of corn with the planter swath control system in operation on a 40' planter. To evaluate the savings, Beutke's calculations assumed a seed cost of $75 per acre and $5 corn.

"Compared with a 40' planter without automatic swath control, our total savings on the 1,366 acres can be estimated at $6,300," Beutke explains. "Our results compared with a 40' planter using manual swath control, assuming no skips and assuming just-in-time turn off for the headlands, provided a savings of $2,475."

He says if the automatic swath control had not been installed, the total amount of overlap would have totaled 28 acres. Yield maps from previous years indicate the yield loss due to overplanting averaged 30 bu. per acre and were as high at 60 bu. per acre.

"I have a lot of point rows across my farms, and I saw the biggest value on the yield side of the equation," says Rod Wilson, the farmer–cooperator on this project. "Saving seed was the obvious benefit, but with the price of corn where it is, it doesn't take long for the system to pay for itself with the increased yields from not overplanting."

Time saver. Increased efficiency is another advantage to adding automatic swath control to your planting operation.

"If you don't have to stop when raising and lowering the planter on 1,000 acres, another 40 acres can be planted in the same time," Beutke says.

These estimations were made assuming 40-acre square fields, planted with a 40' planter at planting speeds of 5 mph, saving eight seconds per turn.

With automated swath control, fields have perfect point rows and headlands. Another benefit is easier operation at night using the display to alert when to raise the planter. This system also gives the ability to plant the headlands last or partial headlands.

At planting and harvest, the savings add up with this technology. 

Thank You To Our Test Plot Partners

Our thanks go to: Ag Leader Technology, Al Myers, Roger Zielke and Michael Misbach; Tru Count Inc. and Jeff Dillman; Trimble; Case IH and Julie Rudnick; Birkey's and Mark Foster; Brandt Consolidated and Pat Schaddel; Unverferth Manufacturing and Jerry Ecklund; Rawson Control Systems and Sharon Gauquie; Bob and Rod Wilson; and Crop-Tech Consulting, Brad Beutke and Isaac Ferrie.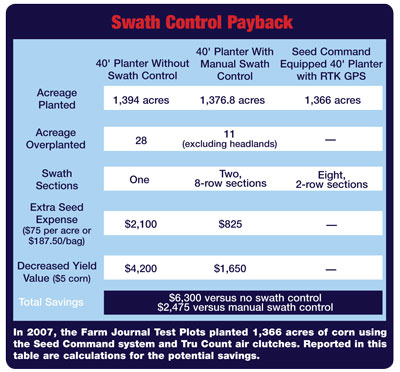 You can e-mail Margy Fischer at mfischer@farmjournal.com.