Welcome to The Profit Puzzle, Top Producer's series linking farm financial performance to strategic decision making.

In this era of market volatility, rising input costs and new break-even thresholds, your ability to make decisions based on production costs can create success or lead to financial failure. Through the Profit Puzzle series, we offer the financial management tools you'll need to make those decisions.

This series will showcase the new frontier of farm financial analysis called management accounting. Our goal is to provide a basic understanding of management accounting so you can determine whether it fits your operational needs.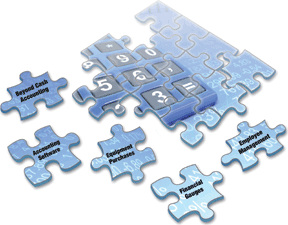 Born among the wind and rock knolls of the Kansas Flint Hills, brothers David and Mark Perkins don't mince words. Twice a year, they stare their accountant in the eyes and ask two questions: Are we making money, and if so, why?
The questions seem superbly simple, except for the fact that the Perkins' operation is highly diverse. In partnership with their father, the brothers manage an operation that includes wheat, corn, soybeans, hay, grazing land, cattle and an oil and gas operation in southeast Kansas. Depending on the year and market, any given enterprise in their business could be supportive of another.
"For years, oil supported the ranch, then it turned around and the ranch supported the oil company," David says. "It's been frustrating to get a handle on the real profit makers for our operation."
This year, however, the Perkinses are a little less frustrated. They have been gradually adopting an accounting and record-keeping system called management accounting (MA), which is designed to assess farm performance by management segments. MA helps break down an operation into specific responsibility centers—such as grain, hay, cattle, oil—and allocates income and expenses accordingly.
This breakdown offers a better understanding of the true costs for each segment within an operation instead of tracking the value of the entire operation as one entity. As a result, the Perkins family can single out winning and losing enterprises.
"We're not married to any enterprise on the operation," David says. "If it's not profitable now, we fix its problems or get rid of it."
Ditch the losers. For years, the Perkins ranch baled prairie hay and sold it to feedlots as a source of cash flow. But they also were wearing out a baler every three years and the activity was highly labor-intensive.
Using MA principles, the brothers began keeping better track of the costs per acre for the baling operation and soon had the numbers to prove that the machinery and labor cost more than what buyers would pay for the hay. They also realized they could buy hay cheaper than put it up, especially with rising fuel prices.
"We are now moving to graze those hay acres and bale just enough for our own cow–calf operation, using only two employees," David says. By getting rid of just one losing enterprise, he estimates, they will increase net profit by 10% in one year alone.
This example illustrates the beauty of MA, says Dick Wittman, a farm financial consultant based in Culdesac, Idaho, and former president of the Farm Financial Standards Council (FFSC), an organization focused on advancing financial analysis and reporting issues for agricultural producers. FFSC has developed guidelines for MA systems (see box below).
"Big opportunities lie in managing costs these days," Wittman says. "I've seen farmers gain an additional $20,000 profit per year on a single equipment procurement decision just by fine-tuning their costs through MA."
Analyzing the farm in segments helps identify problems and opportunity areas instead of focusing on the big-picture bottom line, which doesn't tell as much, Wittman says.
Beyond cash accounting.
MA moves beyond "whole farm" cash accounting to drill down into costs per management segment or responsibility center—or even costs per farm or per field. This gives managers real-time data for timely strategic decisions.
"The operators who are going to be successful 10 years from now are those moving in the direction of management accounting," says Greg Wolf, an agricultural consultant for Kennedy and Coe, the accounting and consulting firm. Wolf works with the Perkins family and other farming and ranching clients on financial analysis, benchmarking and strategic planning.
Ag on board. While the principles behind MA have been used in manufacturing since the 1960s, agriculture has been slow to adopt those principles. Past margins and limited volatility didn't force producers to update their accounting procedures and focus on drivers of costs, says Steve Hofing, managing partner of Centrec Consulting Group, Savoy, Ill., a management consulting firm.
"Management accounting generates the kind of information needed for internal use and management decisions, not the basic balance sheet, cash flow and profit and loss statement for your banker," Hofing says.
Adoption of MA is more than just an up-date in your accounting methods or software, Wolf says. It requires a philosophical shift in how farmers think about farm financial data and how it can be used to make decisions.
"By definition, management accounting involves changing the way producers manage. Therefore, the accounting system has to harmonize with the operation's management structures, skill sets and processes," Wolf says.
"MA helps farmers think beyond record keeping just for tax issues," he says. "It gives farmers true cost information for making decisions on enterprise trade-offs, cash rent bids, decisions to buy or sell farmland and equipment purchases."
Easy does it.
A straight shooter, David Perkins is the first to tell anybody that MA adoption isn't easy. "There's a reason I'm a farmer and not an accountant," he says. He also knows that at some point he may need to upgrade his accounting software to better track inventories.
Another challenge with MA is reallocating overhead once you decide to get rid of an unprofitable enterprise, adds Mark Perkins. "It's easy to get rid of an enterprise that's not making money, but it's not so easy to move overhead around."
"MA is certainly not for everyone," says Ron Swanson, a grain producer from Galt, Iowa, who has long used MA principles and is a former president of the FFSC. "It is a very detailed approach to farm financials and can be expensive, time-consuming and usually requires someone in the business with accounting knowledge."
Wittman likens transitioning to MA to implementing a precision farming system. Most growers don't jump immediately into GPS-controlled variable-rate applications, he says, but transition to that goal over several years after first purchasing a guidance system, slowly building maps and eventually moving into variable-rate applications.
"MA is similar in that it involves a high level of management sophistication in financial and accounting skills," Wittman adds. "The rewards for fine-tuning business performance are equally beneficial."
Can You Answer These Questions?
If you can't answer these five questions, it may be time to consider management accounting. Once you are able to analyze the profitability of each enterprise, you'll be able to answer them and make better-informed decisions.
1. What is the true cost per unit to produce your crop?
2. How have your operational costs changed in the past five years?
3. To what extent are you relying on government payments to maintain a profit margin?
4. Are your returns to equity in various business enterprises appropriate for the risks you incur?
5. What are the key strategies you need to keep your operation profitable in the next five years?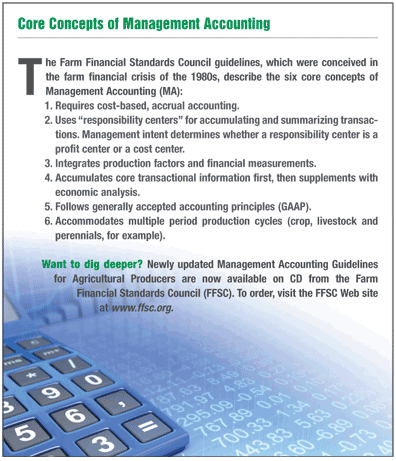 To contact Jeanne Bernick, e-mail
JBernick@farmjournal.com
.
---
Top Producer, October 2008