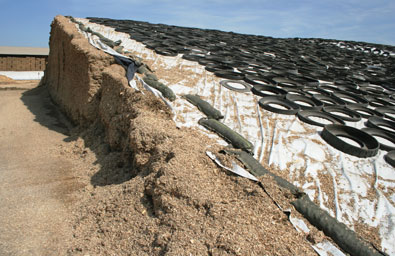 Long, narrow bags filled with pea gravel hold down the edges of a plastic feed covering. The bags' weight helps keep out oxygen.
So, you spent months growing your forages, then made it through the hectic days of harvest, chopping and packing. Ready to lose 20% or more of all your hard work?

That's the amount of shrink loss that far too many dairy bunker silos and drive-over piles see each year, says Keith Bolsen, professor emeritus at Kansas State University.

Bolsen spent much of his 32-year career researching forage and silage management. And he continues to study improvements in feed storage even in his retirement. With the hope they'll provide "every opportunity for single-digit shrink," Bolsen recommends these practices:

Density matters. Start with achieving a higher silage dry matter density. Aim for a minimum target of 15 lb. to 16 lb. of dry matter per cubic foot. "Density and shrink are inversely related," Bolsen says.

Perfect pitch. Shape all surfaces so water drains off the bunker or pile. The back, front and side should not exceed a 3-to-1 slope. Seal the forage surface immediately after filling is finished.

Double the covering. A sheet of oxygen barrier film, such as Silostop, plus a sheet of plastic or tarpaulin are preferred to a single sheet of plastic.

Go beyond. Overlap the sheets that cover the forage surface by a minimum of 6'. Arrange plastic sheets so runoff water doesn't come into contact with silage. Sheets should reach 6' off the forage surface around the perimeter of a drive-over pile.

Anchor down. Put uniform weight on the sheets over the entire surface of a bunker or pile. Double the weight placed on the overlapping sheets. Bolsen prefers sandbags filled with gravel to anchor overlapping sheets. Gravel-filled bags provide a heavy, uniform weight at the interface of the sheets and bunker silo wall. A 6" to 12" layer of sand, soil or sandbags can effectively anchor sheets around the perimeter of drive-over piles.

Bolsen isn't a fan of using full-casing discarded tires to anchor bunker or pile covers. "These waste tires are cumbersome to handle and messy," he says. "Standing water in them can also help spread the West Nile virus."

Bias-ply truck sidewall disks, with or without a lacework of holes, are the most common alternative to full-casing tires. You can stack sidewall disks and sandbags. If placed on pallets, they can be moved easily and lifted to the top of the bunker wall when the silo is being sealed. They can also be lifted to the top of the feed-out face when the cover is removed.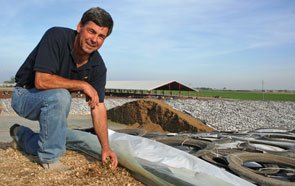 California dairy consultant Ron Kuber checks packing density, slope and silage quality at this pile on a dairy near Visalia, Calif.

Small holes, big problems. Prevent damage to the sheet or film during the entire storage period. Mow the area surrounding a bunker or pile. Put up temporary fencing as a safeguard against domesticated and wild animals. Store waste polyethylene and cover-weighting materials so they don't harbor mice and other vermin.

"Regular inspection and repair is recommended because extensive spoilage can develop quickly if air and water penetrate the silage mass," Bolsen says.

Don't ignore safety. The No. 1 factor contributing to injuries or deaths from a silage collapse is overfilled bunkers and piles. Don't fill higher than the unloading equipment can reach safely. Typically, an unloader can reach a height of 12' to 14'. Use a proper unloading technique that includes shaving down the feeding face. Never "dig" the bucket into the bottom of the silage.

"Undercutting, a situation that is quite common when the unloader bucket cannot reach the top of an overfilled bunker or pile, creates an overhang of silage that can loosen and tumble to the floor," Bolsen says.
---

UNDERCOVER AGENTS

"Who fed the mice today?" asks Micheal Brouk, associate professor and dairy Extension specialist with the Department of Animal Sciences and Industry at Kansas State University.

Mice can be a source of feed shrink and spoilage, in part because they're generally attracted to feeds with higher fat contents, Brouk says.

But a bigger problem than the feed they consume may be the holes mice leave in silage covers. To control the problem, make sure you control weeds around silage piles. You may need to use fencing to keep rodents away from the feed. Storing your drive-over piles on a hard or concrete surface, rather than a dirt foundation, will help eliminate rodent issues.

Processing and putting up corn silage at a high moisture content can also help. "A moisture content close to 32% dry matter, as opposed to 38%, will result in smaller pieces of corn," Brouk says. "That's less enticing for mice, which don't like to eat the fiber."
---

SPOILED ROTTEN

Spoiled silage is more common than nutritionists and dairy producers want to admit, says Keith Bolsen, professor emeritus at Kansas State University (KSU).

"It's a serious problem," Bolsen says. "Spoiled silage does far more damage to the rumen than most people realize."

KSU studies show that feeding surface-spoiled corn silage has a significant negative impact on dry matter intake and nutrient digestibility.

If the top layer has a foul odor, has become blackened and has a slimy, mudlike texture, discard it, Bolsen says. Extensive deterioration can also produce very high pH, ash and fiber values.

Research shows that the first increment of slimy spoilage (about 5% of the ration) has the greatest negative impact. Rumen evacuation revealed that the spoiled silage severely damaged the integrity of the cow's forage mat.
Bonus content:


"Don't Let Shrink Kill You With High Feed Prices" by Dr. Michael Brouk, Kansas State University