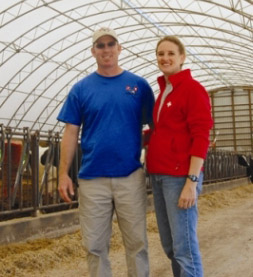 John and Annelies Seffrood

John and Annelies Seffrood gave a virtual tour of their three straw-bedded compost barns Wednesday afternoon here at World Dairy Expo.
 
The Seffroods, who milk 1,200 cows near Summit, S.D. use the three barns to house heifers, close-up cows and heifers and transition cows. And while most compost barns use wood shavings for bedding, the Seffroods rely on finely chopped rye straw.

They couldn't be happier with the results. Seffroods used bedded straw packs in two of the barns. But the bedded packs had to be cleaned out every three months. Then John read an article about compost barns, and decided to give it a try.
 
Since there are few trees in South Dakota, and even fewer wood shavings, the Seffroods knew they needed a different bedding source. Plus, an E. coli mastitis outbreak on shavings-bedded freestalls made them leery of wood.  
 
Farmers in northeast South Dakota grow a lot of wheat and small grains. So straw seemed the natural choice. But rather than use big bales and a tub grinder, the Seefroods use a custom forage chopper to process the straw and then store it in 12' silo bags. This year, they put up 1,700 tons of straw.

They use a manure spreader to bed pens in the transition barn two to three times each week, adding 1" to 2" of bedding each time. The barn is then roto-tilled twice each day to keep the compost mixed. The 96" wide roto-tiller, powered by 100-hp tractor, mixes the compost to a depth of 8" to 12". Once each week, they go through the barn with a three-sweep subsoiler to rip up the pack to a depth of 2' to loosen and aerate the pack. 
 
"Adding straw is not a science, it's an art. You need to keep the pack dry; too wet and the composting action stops," says John. "With composting, we've cut straw use in half versus the bedded pack."
 
The other unique thing about the three barns, each 70' wide with lengths of 100', 210' and 250', is that they're all Cover-All barns. "We can light these barns with just half the lights of our conventional barns," says John. "And I think the cows like the light in the Cover-All barns."
 
Each of the barns is equipped with ridge vents running the length of the building. The Seffroods think this venting is essential, since the composting pack releases moisture—especially when it is turned. Without the vents, moisture would build-up and condense on the fabric ceiling and rigid supports. 
 
The Seffroods also report far fewer bird problems in the Cover-All barns. That might be due to the fact that birds might not like the rounded steel of the arches for perching.
 
Wednesday's virtual tour was sponsored by Cover-All. For more information, go to: www.coverall.net.
---