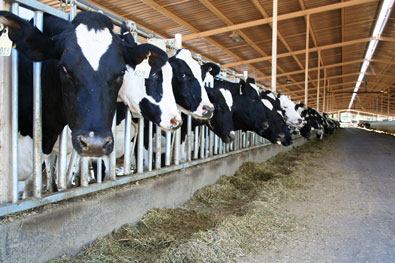 Officials haven't determined the source of California's bovine TB outbreak.
With three California dairy herds testing positive for bovine tuberculosis this year, USDA is downgrading the state's status for the disease from accredited free to modified accredited advanced.
Two of the affected herds were appraised for the bacterial disease, indemnified and depopulated, says Larry Hawkins, public affairs specialist with USDA's Animal and Plant Health Inspection Service (APHIS).
Under its indemnification program, USDA paid a total of $10 million to the two dairies that sent their herds to slaughter in August, says Brian McCluskey, director of veterinary services for the Western Region of APHIS. One herd totaled 4,300 head; the other, 750 head.
The third affected dairy, with 13,000 cows, will keep its herd and undergo testing for the disease, McCluskey says. Negotiations regarding the herd plan are still under way.
The three herds are located in Fresno County in the Central Valley, the center of California's dairy industry.
Since bovine TB was first detected in January, 132 herds and 164,500 dairy cattle in California have been tested as part of the investigation. Another 150 California herds, potentially including beef cattle, are being tested.
The drop in status means additional testing requirements will be imposed on California's cattle industry when shipping animals.
APHIS and the California Department of Food and Agriculture (CDFA) are spearheading efforts to eradicate the contagious disease from the state's cattle.
The source
of California's recent TB outbreak has not yet been identified. The genotype of the isolate from the first affected herd is most similar to isolates from feedlot cattle in the Southwest, many of which originated from Mexico, CDFA says. Preliminary results indicate the infection in the first and second herds are not related. Direct movement of an infected animal from the first herd carried the infection to the third herd.
Rumors surfaced in the summer that infected humans might have spread the disease to cows. While CDFA later said there was no evidence of that, McCluskey says the potential exists for transmitting bovine TB from humans to cattle and it should be considered as a possible source in any investigation.
The California bovine TB outbreak was first identified in a single animal through routine testing at a slaughter facility. Further investigation revealed that two more herds each contained a single infected animal.
California's downgrade is required by the Code of Federal Regulations since at least two TB-affected herds were detected within 48 months.
CDFA is working with USDA to evaluate the possibility of a "split-state" status. This would cause the affected county to be regionalized under intensive disease eradication efforts, allowing the rest of California to return to business as usual with an accredited free status.
California had only just regained its accredited free status in April 2005, two years after losing the designation due to a bovine TB outbreak in Kings and Tulare counties.
Bonus content: