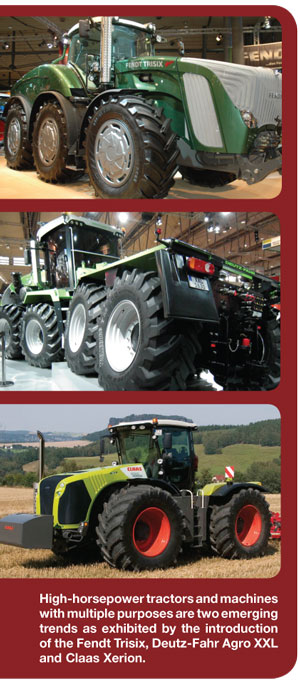 A  look across the Atlantic Ocean shows several interesting trends in tractor technology. Smaller fields and narrow roads influence Western European machinery. Conversely, expansive land and production potential drive the trends in Eastern Europe.

Machinery manufacturers now have two distinct customer demands: highly sophisticated and maneuverable equipment for the intensively farmed and densely populated West; and more basic, high-output machines for the East. The following trends have emerged as a result.

1 Higher horsepower
Leading the technology charge in Western Europe are row-crop tractors with 350 to 380 engine horsepower. There's no reason why the power limit should not increase to more than 400 hp, providing tire technology keeps up. These European high-horsepower tractors aren't just basic pulling machines. They come equipped with all of the latest and most sophisticated technologies—everything from electronic lift control and continuously variable transmissions (CVT) to ISOBUS universal controls and the latest GPS guidance systems.

2   Niche tractors with more power and narrow width
Two years ago, Fendt previewed a prototype of a six-wheel tractor; this past year, Deutz-Fahr unveiled its Agro XXL eight-wheeler. These are tractors with 450 hp (Fendt) to 600 hp (Deutz-Fahr) and a transport width of less than 9.9'.
This "narrow" configuration enables the high-horsepower tractors to not only work for a couple of weeks in the field but also to extend their use to towing trailers and tanks and jobs such as mowing—either with mowers in reverse mode or with one mower at the front and two at the rear—with a working width of 30' to 36'.

3 Highly sophisticated multiuse tractors
Claas is continually refining its Xerion, a huge workhorse with multiple cab configurations, four wheels of equal size and steering options. Claas recently expanded the series to include two models with 480 and 524 engine horsepower, two steered axles and a top travel speed of more than 31 mph.

4 Electronics for more precise and comfortable work
Claas, John Deere and New Holland offer an "auto-fill" option for self-propelled foragers. A camera watches and guides the forager to fill the trailer evenly from end to end, without the help of the driver.

5 Push-off trailers for high performance
Biogas is the top renewable fuel in Europe. Feedstock supply to biogas plants increases the need for high capacities in transportation. The distances to the plants aren't long enough to demand trucks, so this category of grain trailers fills the need.

6 Continuously variable transmissions
CVTs are increasingly popular with European farmers. AGCO's Fendt is the only brand to market a complete line of CVT models, from 70 hp to 360 hp. Other companies are extending CVT offerings—either by having specific CVT models in their range (CNH) or by selling a CVT option for existing models (John Deere).

7 High-speed farming
Most new tractors in Europe are sold with top speeds of 19 mph or 25 mph. Many models between 180 hp and 350 hp feature standard speeds of 31 mph. Even 37 mph is available on some tractors.

These higher speeds bring the obligation to make machines safe through the use of anti-lock braking systems (ABS) and electronic stability programs (ESP) for improved handling.

In Germany, the potential maximum limit for tractor speed is about 37 mph. The German autobahn requires a minimum speed of 37 mph, and most engineers can't imagine finding a tractor with a plow or rake on the country's main high-speed highway.

However, JCB has offered tractors with 50 mph capability for years, and Mercedes-Benz plans to increase activity in the ag sector with Unimog.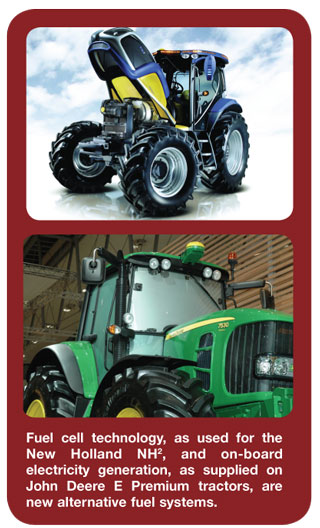 8 Highly sophisticated suspension systems
In addition to ABS and ESP, higher travel speeds have encouraged a more in-depth focus on suspension systems. According to European law, a suspended front axle is required for speeds of 31 mph or more. Cab suspension is not required, although many farmers spend extra to achieve the most comfortable ride. The same applies to front suspension: Even though it is not legally required, there are customers who invest $7,500 for the technology.
The interest in "intelligent suspension systems" grows. These systems provide the entire cab with what John Deere has been achieving with its "active seat."

9 GPS-controlled guidance systems
GPS has and will continue to have a major effect on farming methods. In Europe, you will find the complete range of GPS controls in tractor cabs—from entry-level lightbars to top-of-the-range GPS auto-steering with RTK
correction. As in the U.S., some farmers are hesitant when it comes to tech adoption and don't know how to justify the cost.

10 Telematics
Telematics is a form of digital communication whereby the machine collects data while at work in the field and makes this information available on the Internet for the owner's use.

11 Biofuels and electric power
Two manufacturers market biofuel tractors with two-tank systems for cold-pressed rapeseed oil. The reduced diesel price during the past 18 months has led to less of an incentive for
farmers to test these new fuels.

Electric power is another popular subject at farmer meetings. John Deere introduced its E Premium tractors with high-voltage generators. 

The next generation of tractors with fuel cells has been previewed in the shape of New Holland's NH2 tractor. This is undoubtedly an interesting development, but at this stage it is still very much a prototype. This machine won't be commercially available for another three to five years.

There is certainly no denying that we're in an extremely exciting period in the continuing development of the agricultural tractor. 

 
---
Manfred Neunaber is editor of profi, a Germany-based international farm machinery publication.