Given the roller-coaster ride we've had, the million-dollar question is whether we're now in a long valley following a transitory bull market or a temporary setback in what continues to be a strong demand scenario.

"We continue to believe several important characteristics distinguish present-day corn and soybean fundamentals from those of previous high-price periods," says Lewis Hagedorn of J.P. Morgan in Chicago. He calls the three- to nine-month outlook for both bullish, as competition for 2009 acreage heats up. This crop year's corn inventory is relatively low in light of ethanol mandates, and soybean stocks are at risk of a reduction, he says.

Market Strategy columnist Jerry Gulke is not as optimistic, believing the slump could last 18 to 24 months (see Market Strategy).

Our map highlights some pluses and minuses in corn and soybean supply and demand. Balanced out at this time, they don't make a strong case for either another wild bull run or a return to long-term levels of $2 to $3 corn and $6 to $7 beans. Of course, a key wild card still in play is the effect of the worldwide economic slowdown and its impact on demand in both developed and developing countries.

"We continue to believe that the demand-led under-pinnings that led corn and soybeans to recent historic highs remain in place," Hagedorn says. "Even allowing for a more conservative demand estimate in light of slowing global economic conditions, corn and soybeans will struggle to meet demand and allow for inventory restoration." In his opinion, the lower price landscape we are now in will allow users to avoid some previously expected cutbacks.
---



Ethanol corn use rises 33%, although some say USDA's 4 billion bushels are too high.
• Ethanol producers are hurting.
• Blending is not attractive; gasoline is cheaper than ethanol. Blending credit drops from 51¢ to 45¢ in January.
• New rules in 2009 discourage new plants; they must be able to reduce greenhouse gases 20% versus gasoline. Lack of new plants means we may not meet the mandate.

Corn feed use is down 12%; soymeal domestic use drops 28%:
• Grain-consuming animal units dropped in 2008 to 93.8 million from 94.9 million a year earlier.
• Dry distillers' grains gain wider acceptance, displacing more corn and meal.


• Dairy and beef profits are negative; pork and poultry production is contracting.
• Wild card for livestock is consumer demand.

Exports weaken (corn down 2%; soybeans, 12%):
• Stronger dollar makes our products more expensive in some markets.
• Canada and Mexico have more abundant grain supplies and a reduced need for corn imports.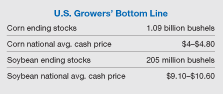 ---



• Credit crunch stifles Brazilian plantings.
• Brazil's domestic soybean use rises; growth in meal use second highest in world; equals 14% of global growth.
• Argentina imposes export taxes. Corn exports drop 27%.
---



• More abundant grain supply; accounts for 80% of the global drop in coarse grain import demand.
• Wheat and coarse grains exports up 44%.
• Wheat and coarse grains ending stocks up 33%.
• Lower soybean imports, down 6%.
---



• Rebound in feed wheat production cuts into coarse grains sales and prices.
• Wheat exports up 30%.
• Coarse grains exports up 250%.
• Coarse grains ending stocks up 34%.
---



• China placed export taxes on fertilizer to ensure its producers have enough.
• China reduced or removed export taxes on some ag products, including corn and soybeans.
• China is rebuilding its disease-ravaged hog herds; its corn exports will be virtually zero.
• Chinese soybean imports down 1% to 2%.
• China announced an economic stimulus package Nov. 9.

---



• Oil prices have fallen more than 50% from their peak.
---
World Wheat prices low enough to feed, but won't draw enough acreage for another record crop. • Total corn competitors' exports and ending stocks both down 6%. • Soybean exports unchanged in 2008 versus 2007 crop year. • Soybean ending stocks up 5%.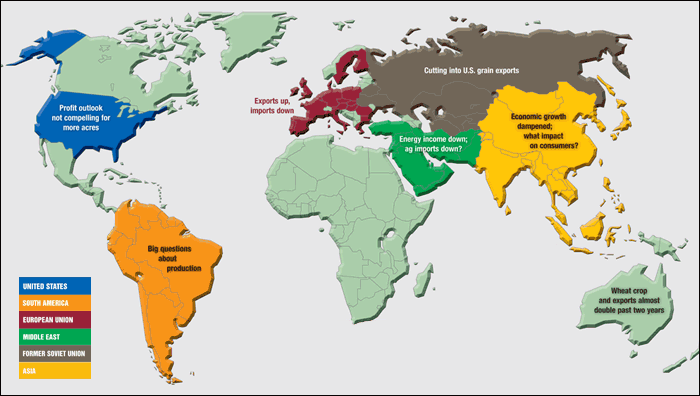 To contact Linda Smith, email [email protected].


---

Top Producer, December 2008