With a crowd of dignitaries, farmers, media and university representatives on hand, Tennessee broke ground on its long-awaited pilot cellulosic ethanol plant Oct. 14.
Located in an industrial park at Vonore, Tenn., 35 miles south of Knoxville, the plant begins with $40.7 million in state money for its construction. The project, using switchgrass as a feedstock, will produce just 250,000 gallons of ethanol a year beginning in fall 2009 but will be the key research facility in the state's efforts to birth its biofuels industry.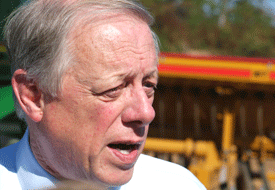 Tennessee Gov. Phil Bredesen speaks at the cellulosic ethanol plant ground-breaking ceremony. (Photos: Charles Johnson)
Called Genera Energy, the project is a partnership between the University of Tennessee and DuPont Danisco Cellulosic Ethanol LLC, a joint venture formed this year by DuPont and Genencor to commercialize cellulosic ethanol.
Sixteen farmers within a 50-mile radius of the site planted 723 acres of switchgrass under a state-funded program this year so the facility will have feedstock when operations begin. The farmer program will add up to 2,000 additional acres next spring and still more acreage the following year.
"It's a great opportunity and gives us insight into a new crop and the business of agriculture. I'd love to see the U.S. independent of foreign oil and am thrilled that agriculture can be part of it. Just imagine what our economy might be if we were investing the billions of dollars sent overseas for fuel right here in our local communities," says David Richesin, Philadelphia, Tenn., one of the cooperating farmers, who spoke at the groundbreaking.
"The plant and partnership will do an awful lot for this state's future, in meeting energy demands and, at the same time, supporting agriculture and rural areas. We really have a double win," says Gov. Phil Bredesen.
"When it comes to facing the challenges of the future, Tennessee isn't just talking the talk about clean energy technology. We're walking the walk, rolling up our sleeves and getting to work. Tough economic times like this are when it's.most important to make investments for the future that down the line will result in jobs," Bredesen says.
Bredesen envisions a future with ten or more cellulosic ethanol plants across the state, providing thousands of jobs along with increased economic opportunities for farmers.
"This plant has the potential to open all kinds of doors for us. It represents a bold step. To continue to take advantage of it we need to continue to take bold steps. We in Tennessee have the opportunity to take real leadership in the area of alternative fuels. We don't need to stop with the pilot plant. We need to be bold," Bredesen says.
Newly developed technology puts the pilot plant on, "an accelerated schedule," says Joe Skurla, DuPont Danisco's president and chief executive officer.
"At DuPont Danisco, we're taking a global view of this emerging industry. Tennessee has leveraged its natural advantage into a foundation for the future. The farming community knows better than anyone that this country has the ability to produce all the food, all the fiber and all the fuel we need. Together we will show the world a way to a bio-based future, and it all begins here," Skurla says.
"Thanks to the University of Tennessee Biofuels Initiative for supporting the grower system in which switchgrass production is already underway. At DuPont Danisco, we have the technology package that is going to win in the marketplace. We are ready to scale up. Partnerships are very necessary, and Tennessee is the perfect partner for us," Skurla says.
The switchgrass project has promise to help Tennessee farmers, says Lacy Upchurch, president of the Tennessee Farm Bureau Federation.
"Anytime you develop a new energy crop that can be grown on more marginal land and is a perennial, too, requiring fewer inputs, that's good. If we can develop the process and make a success of turning it into biofuel of some kind, it'll be a tremendous boost for agriculture. A lot of our farmers are kind of conservative, but they will step in if there's a good sound market for switchgrass," Upchurch says.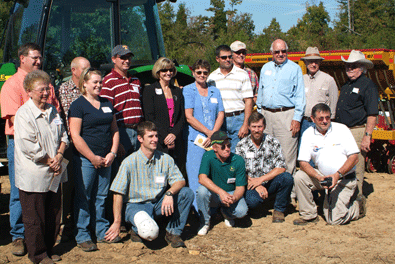 Pictured are some of the 16 farm families cooperating with the University of Tennessee's switchgrass project.
---