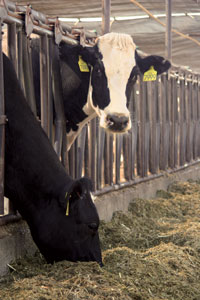 Cows take more time eating rations with large feed particles, but the extra time is spent sorting those particles out.
Numerous studies have shown that rations that contain too few long particles will often lead to rumen acidosis.
But new studies conducted over the past few years also suggest that having an overabundance of long particles can lead to the same result, says Paul Kononoff, a dairy nutrition specialist with the University of Nebraska.
"The total minutes cows spend eating is longest with large particles in the total mixed ration (TMR), but they take a lot of time sorting those particles out," he says.
In a study Kononoff conducted several years ago that equalized for neutral detergent fiber (NDF), animals that were consuming diets with the longest particle lengths refused additional fiber.
A Florida study that was conducted last year shows that "forcing" cows to eat higher amounts of fiber by offering a higher concentrate-to-grain ratio doesn't work very well either. "Surprisingly, cows consuming the low-forage diet exhibited a greater degree of sorting against large particles and NDF," Kononoff says.
"This research suggests cows may not always regulate feeding based on their needs," he adds.
Use of silage processors when harvesting corn silage is one solution. "Although finely chopping or processing corn silage increases the power requirements and harvesting costs, studies demonstrate that these practices reduce sorting behavior," Kononoff says.
His other thumb rules:
Rations should contain at least 25% NDF, with 19% coming from forage.
At least 25% of the TMR should appear in the top screen of the Penn State Particle Separator.
The TMR should contain no more than 26% starch.
 
---