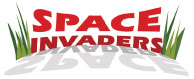 No pest matches the definition of an invasive species better than the soybean aphid.

Native to Eastern Asia, this pest was detected for the first time in the U.S. in Wisconsin in 2000 and has quickly become the most costly pest to infest U.S. soybean fields.

Today, the small (less than 1/16" long when mature) pale yellow soybean aphid (Aphis glycines Matsumura) has extended its range to every soybean growing region, putting more than 60 million acres at risk. Although far from being the only aphid flitting in fields (there are hundreds), it is the only one that colonizes on soybeans.

Piercing the soybean, the pest sucks plants of sap and reduces their ability to grow properly. Soybean aphid can also transmit viruses, which contributes to quality problems and reduced yields.

What makes the pest fascinating from the invasive standpoint is that virtually everything about its life cycle is exotic, notes David Ragsdale, a University of Minnesota entomologist.

"The soybean aphid represents an invasional meltdown," Ragsdale says. "Exotic species from a variety of continents come together here in the U.S. and allow the aphid to invade soybeans. We don't know which component of the equation is the most critical, but we do know it takes all of them for the aphid to exist."




Exotic enemies. The soybean aphid spends its winters in common buckthorn, a woody shrub or understory tree. Originally introduced from Europe as an ornamental plant, buckthorn fell out of favor when it began crowding out native species and became considered an invasive plant in its own right. Buckthorn also needs a litter-free environment to thrive and gets it thanks to industrious European earthworms that work to tidy up the soil.

After eggs hatch on buckthorn in the spring, aphids build up their numbers before colonizing soybeans. Don't forget—soybeans come from China. Aphids may invade soybeans after emergence and can continue into late summer, but during that time the aphid can fall prey to beneficial insects. The soybean aphid has numerous native predators, but the past few years have proven that these beneficial insects do not consistently control outbreaks, notes David Hogg, a University of Wisconsin entomologist.

To make matters more interesting, one of the leading aphid chow hounds, the multicolored Asian ladybird beetle, is both exotic and invasive. Originally introduced to control pecan aphids in Georgia, this good bug has turned double agent. It is an indiscriminate diner and has developed a bad habit of home invasions.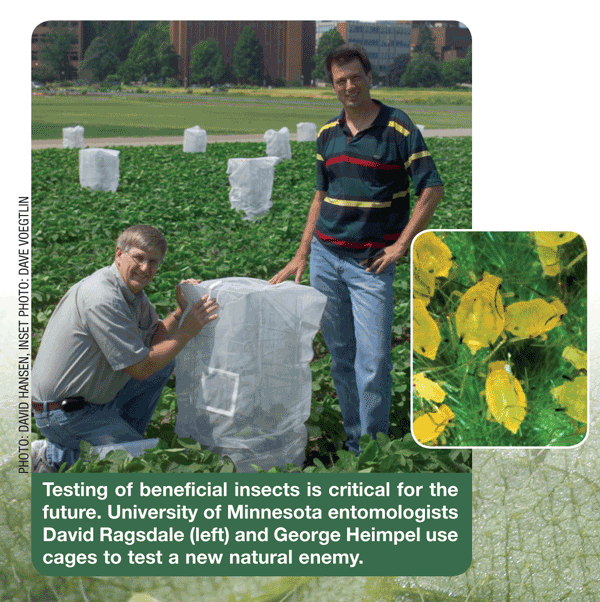 New controls. Soon after the soybean aphid arrived in the U.S., Midwest entomologists headed to Asia to discover that it is rarely problematic on its home turf and that natural enemies are the key to its nonpest status.
Since 2005, scientists from five states and USDA, with funding from the North Central Soybean Research Program, have been conducting studies on a handful of new biological insects. "The idea is to reunite some of these natural enemies from their Asian homeland and use them to complement host plant resistance and insecticides as management tactics," Hogg says.
Aphid enemies in the U.S. are almost exclusively predators that eat their prey. By contrast, aphids in Asian countries are held in check by parasitoids that lay eggs in the aphid. The larval stage of the insect eats the aphid and forms a mummified aphid.

So far, a tiny wasp called Binodoxys communis is the most promising parasitoid. After years in quarantine, Iowa, Indiana, Michigan, Minnesota, South Dakota and Wisconsin participated in a release program in 2008.

Ragsdale says the wasp leaves other native species alone and makes the soybean aphid its No. 1 target. At question is whether the parasitoid can survive winter and establish itself.

Exploration of foreign lands continues to yield new potential biological controls, but last year's aphid season has turned up the heat.

Before 2008, outbreaks of aphids occurred almost exclusively in odd-numbered years. Based on previous experience and low numbers of winged aphids captured in suction traps during the fall of 2007, no one expected the suckers to show up last summer.

Then, like recalcitrant teenagers, the aphids broke all the rules. Many Midwest fields were treated with insecticides two or three times. "Last year was a wake-up call," Ragsdale says.

"We knew weather plays a key role in aphid development. A cold wet spring delayed soybean planting. Staggered emergence and a patchwork of very young plants created a smorgasbord for the aphid. Cool nights also kept the aphid's natural enemies from developing," he notes.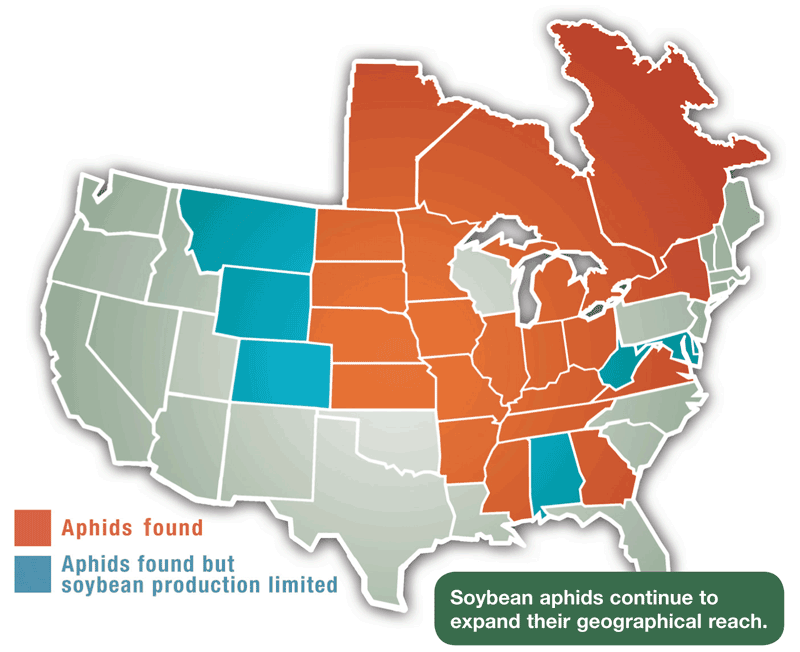 In 2008, the soybean aphid also went west, reaching Wyoming, the westernmost fringe of U.S. soybean production. In addition, more aphids were caught in the Midwest suction trap network last fall than ever before. A lot of biology happens between fall and spring, but entomologists have come to accept that the soybean aphid's ability to adapt is almost daunting.

Host plant resistance is being held up as a hope for the future of aphid control, with two sources of genetic aphid resistance called RAG1 and RAG2 as leading candidates. But biotypes of soybean aphids have already proven they can overcome the RAG1 gene.

"This community consisting of plants [soybean and buckthorn], soybean aphid population and predators are all interconnected," Ragsdale explains. "Economic thresholds are set to allow maximum benefit from the natural enemy community. Spraying insecticide too early can allow aphids to reproduce in 'enemy-free space' and remnant soybean aphid populations to build back up in late summer just prior to migration back to buckthorn. This
scenario sets up soybean aphid as an annual pest."

 
---

You can e-mail Pam Smith at psmith@farmjournal.com.